Indeed, it might even be said that this small decision of mine constituted something of a key turning point; that that decision set things on an inevitable course towards what eventually happened.
– Kazuo Ishiguro, The Remains of the Day (1989)
Michael Coolbaugh is back with another Thursday commentary on markets that would have just about any investor who knows what they're looking at begging, borrowing, and/or stealing to get regular access to his thoughts and ideas about how to protect and build wealth in this market…
Of course, you don't have to do any of that. In fact, all you have to do is click here for the presentation of Michael's all-new service, Delta Profit Trader.
I invited Michael to join our team in mid-summer 2019, after the infamous "Powell Pivot" to "easy money forever." And Michael's actionable commentary on markets is critically important to what we're doing in Deep State Declassified and The Stockman Letter.
I've said it before, and I'll say it again: I literally cannot think of a better way to identify opportunities for upside while we continue to prepare for the inevitable prodigious downside that comes with these sordid bubbles than through Michael's system.
He's already demonstrated his value here and in the pages of The Stockman Letter. This presentation – the "Delta Profit Summit" – simply promises much more of the same.
And, given the way the market's moving of late, – responding as it has to the Federal Reserve's massive "not QE" liquidity injections, I expect to see a lot of action sooner rather than later with this new investment newsletter…
Now, here's Michael with a more extended preview of his insights…
A Well-Played Piece
By Michael Coolbaugh
"There's no better satisfaction than playing a piece well, whether the instrument is a piano or the markets."
One thing you'll quickly come to learn is that I'm really going to push you to expand your knowledge of the trading legends.
Today's lead quote is from Linda Bradford Raschke, a legendary futures trader who was featured in a volume of Jack Schwager's renowned Market Wizards series.
But, honestly, I'm not here to play a stock market version of "Jeopardy!".
No, what I hope you'll gain from broadening your knowledge of such legends, most of whom are unknown to the general public, is a deeper understanding of what works and what doesn't work when it comes to markets.
My reasoning?
I've talked about it at great length, but simply put, I'm not one to believe "this time being different."
After all, we're dealing with humans. And human nature doesn't just change, which means what worked decades ago is likely to carry substantial weight today.
I'm not just talking about investors. The harsh reality of the many flaws deep within human nature permeates decision-making by everyone from politicians to monetary central planners to your local factory supervisor.
Remember the "chess match," or the "game within the game," that we briefly touched on in As Many Fools As Possible from December 19?
Well, the defense just came on a blitz, and by the "defense," I mean Christine Lagarde and the European Central Bank (ECB).
Here's a smattering of headlines from today's ECB presser, as rendered by my Bloomberg terminal:
ECB: BOND PURCHASES WILL CONTINUE FOR "AS LONG AS NECESSARY"
ECB: BOND PURCHASES WILL END SHORTLY BEFORE FIRST RATE RISE
ECB EXPECTS KEY RATES TO REMAIN "AT THEIR PRESENT, OR LOWER LEVELS"
ECB: RATE GUIDANCE APPLIES UNTIL UNDERLYING INFLATION ROBUSTLY CONVERGES WITH TARGET
LAGARDE: ECB COMMITTED TO SYMMETRY ON INFLATION
LAGARDE: NEED HIGHLY ACCOMODATIVE STANCE FOR PROLONGED PERIOD
LAGARDE: ECB TO REVIEW HOW TO MEASURE INFLATION, TOOLS
LAGARDE: INFLATION OUTLOOK STILL SUBDUED
In other words, the circumstances are changing.
Now what?
If you'll recall from my December 12 commentary, Let Me Be Clear, I suggested that, through the monetization of U.S. deficit spending, the Federal Reserve was attempting to weaken the U.S. dollar.
But it wasn't just the American central bank acting to devalue its home currency. Here's how I closed that December 12 note:
With central banks around the world seemingly testing to see who's able to weaken their currency the fastest, there's a distinct possibility we'll see a series of 'competitive devaluations' in the coming year, maybe even a Currency War to augment the Trade War.
Well, if December was the opening salvo from J. Powell & Co., it appears that Lagarde & Partners may have just fired back.
I mean, in their very own words, they state that "quantitative easing" will continue until rates rise, and – in the very next sentence – they suggest they expect rates to remain at current or lower levels.
In other words, "QE" is here to stay…
And, just to throw salt in the wound, they even chose select words and phrases that are identical to what the Fed used in the statement released following its December meeting:
"Symmetry on inflation"…
"Review how to measure inflation"…
"Inflation outlook still subdued"…
It's truly astounding.
I'm not touching on this as a victory lap. No, my intention is to remind you that we've had this on our radar screen. And, just as with film study for athletes, if we know our opponent's tendencies, we improve our odds of constructing the appropriate response.
I mention it because while all of Wall Street is fully on board with the usual list of "weak U.S. dollar" trades (long emerging markets, long commodities, long the euro, etc.), we can prepare ourselves for the outcome where the crowd ends up collectively wrong.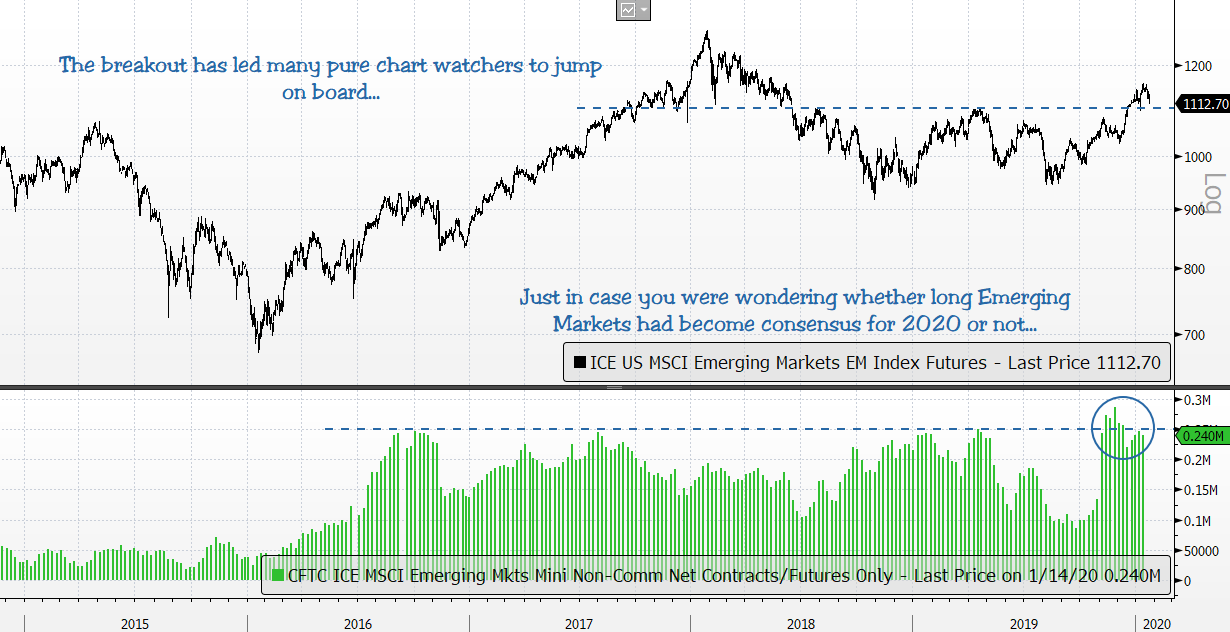 Need proof?
Here's what Lagarde & Partners managed to do to the euro today…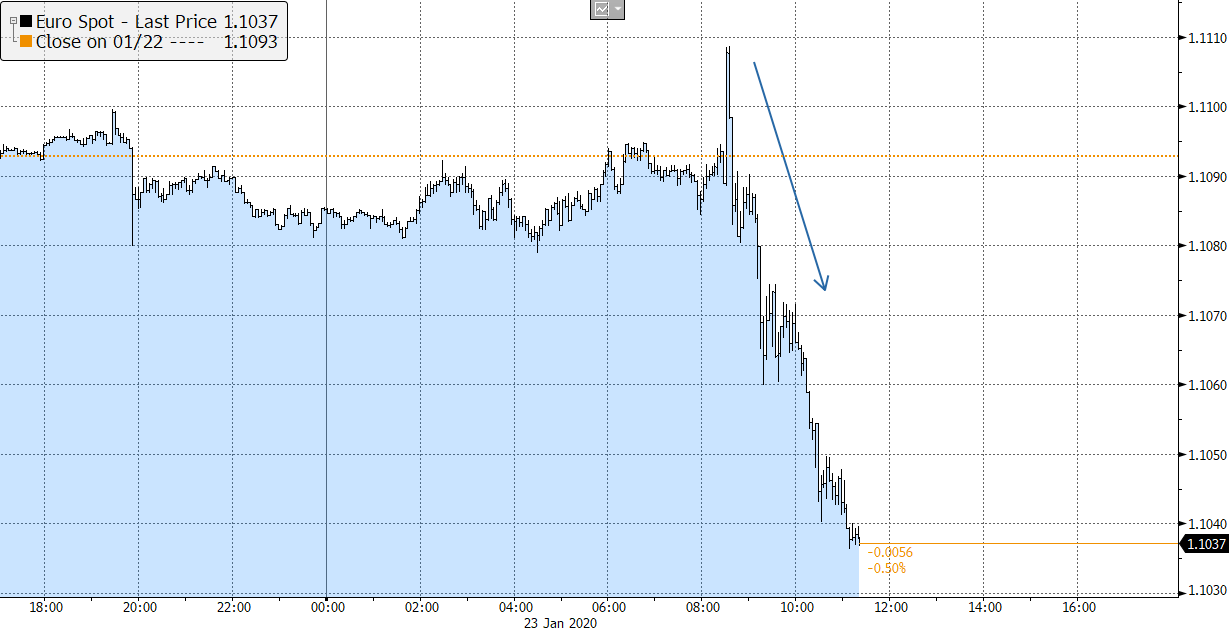 And with the euro, down went emerging markets, represented by the iShares MSCI Emerging Markets ETF (NYSEArca: EEM), with was down 2%; crude oil, which was down 2.7%; copper, which was down 1.8%… the list goes on…
By no means do I believe this is the end to this Currency War.
And, with the Fed awaiting its next turn on offense Wednesday, January 29, you can bet we'll likely get a few more clues as to which side has the upper hand in this battle.
It's certainly something I'll be watching for Delta Profit Trader members…
How to Play It
The 2020 election has replaced the Trade War as the primary risk for investors. That's because, as we've been saying for some time now, this is the most politicized market in history.
And the Tweeter-in-Chief is still in charge. So, the situation is changing almost by the minute.
It's "Impeachment!" in Imperial Washington and all over the Mainstream Media. It's "Easy Money!" on Wall Street and across Bubblevision.
And it seems as if the whole world has, indeed, gone mad.
Amid this chaos, prices will continue to rise and fall, trends will continue to develop and dissipate.
Here's where I usually say, "Well, The Stockman Letter is made for times like these." I can say that because we brought aboard Michael Coolbaugh to update our design to help us better navigate to not only the safest harbors but also the most promising opportunities.
And he's doing that. He's also launched a complementary investment newsletter, Delta Profit Trader, that promises "higher frequency" engagement with markets.
Click here to view the "Delta Profit Summit," where Michael explains his whole approach to investing in this environment.
The stakes are as high as they can be heading into 2020. Markets appear to be straining, catching up to an economy that's been weak and getting weaker for years.
The Donald is tied up in the day-to-day movements of the major stock indexes like no president before him. The increasingly desperate incumbent will do anything he must to hold the White House.
It's a major tipping point. And there's no telling what the Donald's great disruptions could do to your wealth.
You've got to be nimble to win in this market… and Michael's here to help you do that.
To common sense.
P.S. In case you missed it, yesterday was a special day here at Deep State Declassified with the broadcast of an unprecedented event, The Delta Profit Summit, where my colleague Michael Coolbaugh shared a wealth of extremely valuable knowledge and experience from his time on Wall Street. This includes letting viewers in on one of Wall Street's very own algorithms and showing them how they can use it to generate impressive returns in 2020. Make sure you catch a recording of the presentation here.
Former White House Budget Director, David Stockman is stepping forward in his new project, The Stockman Letter to warn everyone about the serious danger facing our country! Click here to find out the…
Read More