The Great Disruptor is going all in with his reelection chips, and he's putting them on red.
The conventional wisdom inside Imperial Washington right now is that the Trump 2020 people believe they can beat any Democrat by taking on China. "Our guy" is the true defender of American economic and strategic interests; "theirs" is just another timid caretaker for the globalist-elite… is the line.
Indeed, the Tweeter-in-Chief is already all over "Sleepy" Joe Biden, the "Favorite Son" candidate from the Acela Corridor. And he's "eager," as Politico put it, "to show he made good on his promise to stand up to China through the volley of tariffs he has imposed – and the threat of more."
Of course, that strategy's success depends on the survival of the current expansion.
If it does continue, the post-Global Financial Crisis/Great Recession recovery will be 136 months old by November 2020. Not even the great tech boom of the 1990s lasted that long. That one managed to survive for 119 months – but it was under far more propitious circumstances.
The Donald could have left things alone after his wholly misguided tax cut, his largely symbolic regulatory reforms, and his demagoguery about a wall… and we would likely still be headed for recession.
But he started a Trade War too. What's happening is like nothing else conceived in modern American history. And the tit-for-tat with the Red Ponzi continues to intensify.
Soon, the momentum will be uncontrollable.
The global economy is built around trade with the China. Total two-way flow in 2018 was $4.6 trillion.
The Red Ponzi is the maw that on the margin consumes the price-setting share of global energy and commodities. And its imports of engineered capital goods and luxury autos and consumer items are all that keep Europe's socialist paradise off the slippery slope of terminal decline.
With each passing day, traded insult, and new tariff, the probability that President Trump and President Xi make like combat ships passing in the night at the upcoming G20 meeting in Tokyo rises. And the whole world will be watching to see whether this reaction goes critical.
An all-out Trade War and a 25% tariff on $560 billion of Chinese imports will break the Red Ponzi. It will hit the U.S. with up to $160 billion of cost inflation.
And it will send the volume of global trade – and therefore the global economy – into a nosedive that'll make the one in 2008 look positively pleasant by comparison.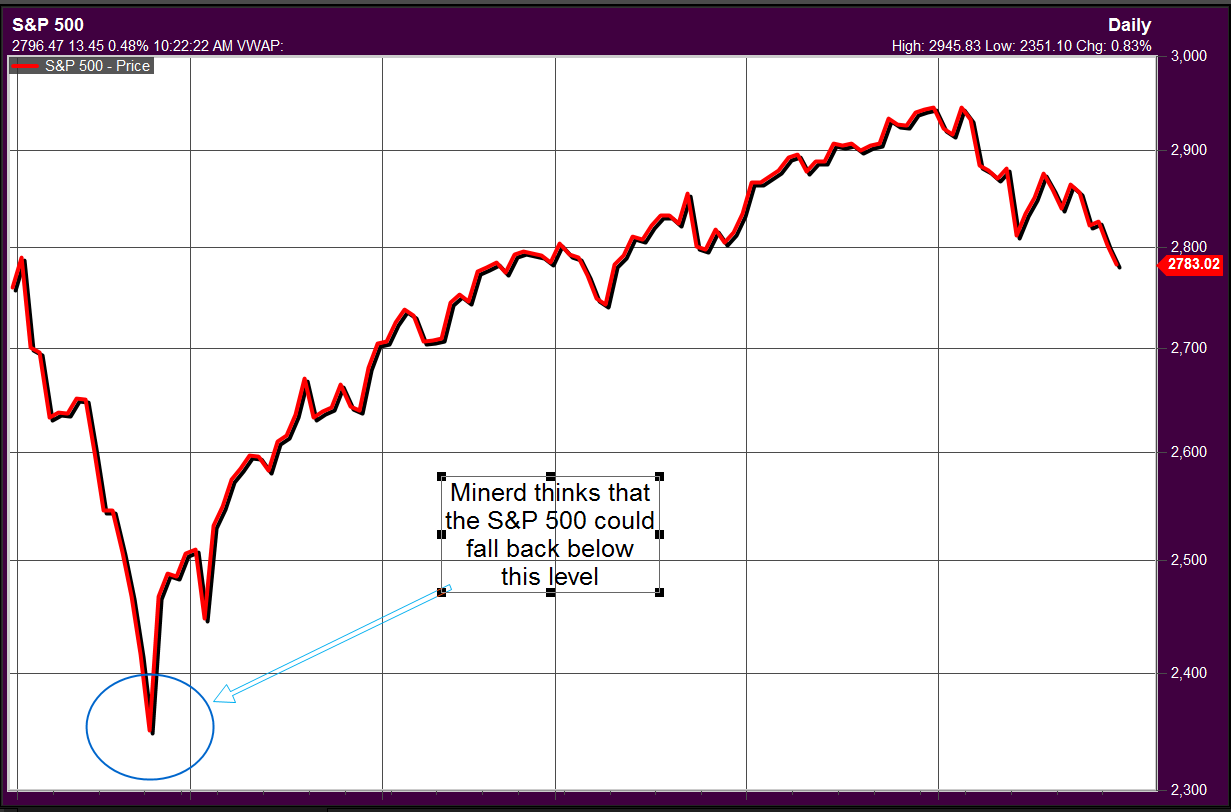 Scott Minerd, the estimable chief investment officer of Guggenheim Partners, said in early June that the major U.S. stock indexes "could fall to lower lows than those produced during a withering fourth-quarter selloff that culminated in the ugliest Christmas Eve trading session in history."
Minerd doesn't buy the hope that the Donald has planned. He doesn't believe he'll retreat simply because Wall Street demands it. We're in uncharted waters, and financial markets are vulnerable: "The trade tensions are likely to get a lot worse because we have never in modern times had a trade war like this," Minerd said.
"Never in modern times" have we had an unhinged madman in the Oval Office so willing to bring down the entire house of debt and speculation embedded in the global system, as he demonstrated two weeks ago with his Mexico tariff tweet.
This the Orange Swan, in full hue…
Now, is the Federal Reserve capable of rescuing the system from that?
Suitable Tones
Desperate times call for… "common sense" measures.
And these are desperate times… Markets are corrupted by monetary central planning. They're confused. And the road back is going to be treacherous.
We're looking at a major re-pricing for all financial assets. And thousand-point intraday or day-to-day swings are part of that equation. Those can be frightening… for "buy and hold" investors.
I have a different approach, one that combines strategy and tactics into a plan flexible enough for you to survive and thrive amid the coming chaos. It's called "The Stockman Model."
All we're after is a little stability, perhaps a chance to pocket a windfall when opportunity presents…
To common sense,

David Stockman
The horrible start to October has investors on high alert. This market bubble – inflated by the Fed's low interest rates and Republican tax cuts – may have finally run its course.…
Read More