Easy money
Oh I don't want no hard cash
I just want the easy money
I could get lucky
– Billy Joel, "Easy Money (1983)
When I'm not on stage, in front of the "green screen," or part of the graphic myself, I tune in to Bubblevision for the chyrons alone.
Here's a sampling from today:
STOCKS RALLY FOR THIRD DAY…
DOW MOVING CLOSER TO REGAINING 25,000 LEVEL…
STOCKS MOVE HIGHER AHEAD OF POWELL SPEECH…
That last one, though…
The Donald, of course, unloaded another fusillade on the Federal Reserve yesterday.
It happened during an Oval Office sit-down with reporters from The Washington Post.
They had him on mute when it came to Prosecutor Mueller. But the president's people let him call out the Fed chair he chose – "Jay," as the Donald says – and blame him for the market selloff as well as General Motors' (NYSE: GM) plant closures and job cuts.
Corporate America is all in: Sam Allen, CEO of Deere & Company (NYSE: DE) and Chairman of the U.S. Council on Competitiveness, said this morning that the central bank should "hold up for a few quarters."
Wall Street, obviously, is leading the "easy money" chorus.
And it all lent Fed Chair Jerome Powell's noontime talk today at The Economic Club of New York heavy accompaniment…
Did he blink? Was it "dovish"? Will it all be over after December?
Those questions are great for Bubblevision.
That was the case right before Powell actually took to the podium – by which time the Dow Jones Industrial Average was at "session highs."
And they'll book a lot of guests to talk about those questions, or variations of them, until…
Well, until the Fed gives them what they want.
As for today's "substance," Powell forecast solid growth, low unemployment, and stable prices. He said valuations are high "for some asset classes."
In a talk titled "The Federal Reserve's Framework for Monitoring Financial Stability," he concluded "risks to financial stability" are "moderate." He sees no "dangerous excesses."
But he did note that corporate debt was at the upper end of valuations. And he pointed out that rates are "just below range of neutral estimates" and "still low by historical standards."
The Fed's "gradual rate path" is "designed to balance risks." And there are risks of moving "too slow" – and risks of moving "too fast."
So, there's the out by which the Donald will probably tweet "victory" – today's rationale for a 500-point bounce.
But there's still this…
"Quantitative tightening" and the GOP's Fiscal Debauch have $1.8 trillion of homeless U.S. Treasury paper flooding the bond market.
The real problem is it's not an aberration. Nor is it "isolated."
In fact, a tectonic shift is now underway in global financial markets. And it'll turn the financing of America's soaring public and private debts into a veritable nightmare.
Powell can say what he wants, today, tomorrow, forever…
But consider what happens when monetary central planners around the world need to shrink their own balance sheets. And they have to do it all at the same time, lest their exchange rates collapse against the dollar.
During the last 15 years, central banks have undertaken a collective money-printing spree with no historical precedent. Their balance sheets grew from $4 trillion to $25 trillion – every dollar of that $21 trillion expansion plucked from thin air…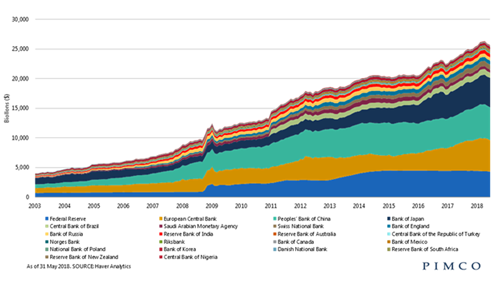 CLICK TO ENGLARGE
The Fed has launched an epochal pivot from "QE" to "QT" – and properly so. Its balance sheet alone is shrinking at a $600 billion annual rate as of October 2018.
And, in the next several years, the European Central Bank, the People's Bank of China, and most others around the world will be forced to make the same pivot.
Ultimately, the Fed is "going to follow the data."
Functionally, that means it's "normalization" until our monetary central planners have enough "dry powder" to combat the next crisis of its own creation.
Whose Pal Is Powell?
From the "macro" to the "micro," head-to-head duals animated Bubblevision today.
Trump versus Powell is the headliner. But Apple (Nasdaq: AAPL) versus Microsoft (Nasdaq: MSFT) for the title of "Biggest Publicly Traded Company in the World" killed a lot of brain cellsairtime.
Of course, you can't spell "FANGMAN" without AAPL and MSFT. And, as I note in The Stockman Letter No. 1, "With FANGMAN You Hang, Man."
Their market caps are products of Bubble Finance, expanded by easy money. And those market caps are about to contract, cleaved by "normalization."
As far as the Fed is concerned, it's "normalization" now, "normalization" tomorrow, "normalization" forever. That's because the Fed is concerned with the Fed and the Fed's power.
Creating "dry powder" is about preserving the institution. It's about getting ready to reap the whirlwind…
…Only, when it comes to monetary central planning, that whirlwind is eventually reaped by Main Street.
We may see some fits of short-term buying that create things like 900-point intraday swings, which can be frightening… for "buy and hold" investors.
I have a different approach. And its strategy and tactics are flexible enough for the Mother of All Yield Shocks.
Our "survive and thrive" plan includes specific asset types and allocations by percentage. But it's built to suit your approach to the market.
And we will include tactical notes on particular vehicles that will help us accomplish our twin goals of protecting wealth and profiting opportunistically.
Take a look – before the chaos of the Mother of All Yield Shocks – at The Stockman Letter and "The Stockman Model."
The horrible start to October has investors on high alert. This market bubble – inflated by the Fed's low interest rates and Republican tax cuts – may have finally run its course.…
Read More