…but also we distinguished the false from true, we had suddenly learned to see. And we saw that there was nothing of their world left. We were all at once terribly alone; and alone we must see it through.
– Erich Maria Remarque, All Quiet on the Western Front (1929)
[Editor's Note: Please take a moment during your "social media time" to visit Deep State Declassified on Facebook. With everything that's happening on Wall Street and around Imperial Washington, now's a great time to connect… And we can't do it without you. – D.A.S.]
"Yeah, but I won't be here."
That's how the Donald reacted to data and charts explaining a coming "hockey stick" spike in the federal debt.
Now, that's The Daily Beast reporting based on a source "who was in the room." But it is very much "the Donald."
Of course, that's not what's driving today's broad and deep selloff.
But it is telling.
Like everybody else in Imperial Washington, the Tweeter-in-Chief knows and appears to care about the $21 trillion-and-rapidly-counting federal debt.
"Appears to care" because, really, nobody – not a President, Senator, or Congressman – thinks it" will "happen" while they're still sucking on the public teat.
There's a particular fatalism at work here – his name is Prosecutor Mueller, and his timeline for the "Mr. Trump Goes to Washington" story means, actually, it can happen here… and now.
---
David Stockman's Chilling Prediction…
The Father of Reaganomics has returned with a dire warning: "Trump may be the Great Disruptor, but he's going to fail at one of his core campaign promises. And his failure could cost you your freedoms AND your wealth." To learn more about Stockman's prophecy and to find out what you can do to protect yourself, your family, and your assets, just go here.
---
When I served in the Reagan White House, Uncle Sam could afford to borrow (even if not wisely) to fund the kind of supply-side-oriented tax cuts that dominated the 1981 legislation At the time, the public debt only amounted to only $930 billion and 30% of gross domestic product (GDP).
Today, the Treasury balance sheet reflects 35 years of reckless fiscal policy and labors at 106% of GDP. And that's before adding on the roughly $20 trillion of new deficits over the next decade built into current law and the Donald's and the GOP's tax and spending programs.
Here's the thing. The relatively huge Reagan supply-side tax cuts did not appreciably move the needle of GDP growth. It stuck to the embedded trend of 3.5% per year that had prevailed since the end of the Korean War.
You might wonder, then, what they were hot-boxing in the GOP caucus rooms when they basically voted to borrow another $1.7 trillion to finance stock buybacks and M&A deals.
And that's under far more challenging baked-into-the cake fiscal and monetary conditions…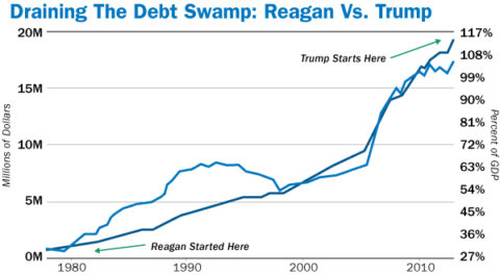 By "it can happen here… and now" I refer, of course, to the Mother of All Yield Shocks.
That means the collapse of Bubble Finance.
And it could spell the end of U.S. "unipolar" dominance of global markets and politics.
But the Dow Jones Industrial Average was off roughly 800 points and about 3% today because Wall Street… thinks there's more to the China story.
"There's more to the China story" is what I said on Monday.
The market started to understand the significance of the Donald's boasts and Xi's silence on Tuesday. Its growing skepticism of MAGA was clear today.
That was true even as news of the arrest of Huawei's chief financial officer Meng Wanzhou, who faces an investigation into whether she violated U.S. trade sanctions against Iran, broke.
But, just as "there's more to the China story," there's more to this selloff story.
Consider: "The credit markets, unlike the equity markets, have gone to bubble status. The amount of covenant-less debt is more than 2007. You have a thirst for yield that exists on a global basis. So there is true excess."
That's Leon Black of Apollo Global Management, a pretty sharp private equity investor.
Now, consider this: According to the Federal Reserve Bank of New York, more people are being denied consumer credit, and more people are having their consumer credit accounts closed.
So, lenders are starting to worry about rising delinquency rates.
Meanwhile, minutes from the November meeting of the Federal Open Market Committee suggest another rate hike this month is certain. It's "normalization" now, "normalization" tomorrow, "normalization" forever…
That the consequences of spiraling U.S. debt – public and private, from the federal government down to your next-door neighbor – will spring relatively soon is the premise of The Stockman Letter.
The "force" of the Deep State has kept the Warfare State and the Welfare State in steady-state growth for far too long.
I mean that figuratively, of course, for anyone who cares about personal liberty.
I mean that literally, too, to anyone who understands what the Donald and the GOP did to the deficit and the debt.
Perils of "The Red Ponzi"
When the Donald put his presidential signature on his Christmas Eve Tax Cut of 2017 and the GOP's Fiscal Debauch of 2019, it was a bet the consequences of such excess won't spring until well after he's left the White House.
Well, we'll see. He certainly isn't doing anything to help his situation with his approach to the Middle Kingdom. There's his Trade War, of course. But there are other, deeper problems in play here.
Pay special attention when you read or hear the word "escalation" in coming days…
We'll explore some of the "second-order" issues regarding U.S.-China relations in the December issue of The Stockman Letter, which we'll publish Friday afternoon, December 7.
It's an important "Mother of All Yield Shocks" story – especially if you want to protect your wealth and profit when opportunities present…

The horrible start to October has investors on high alert. This market bubble – inflated by the Fed's low interest rates and Republican tax cuts – may have finally run its course.…
Read More