It is very extraordinary, if the head of the money department of a country, being unprincipled enough to sacrifice his trust and his integrity, could not have contrived objects of profit sufficiently large to have engaged the co-operation of men of far greater importance than Reynolds, and with whom there could have been due safety, and should have been driven to the necessity of unkennelling such a reptile to be the instrument of his cupidity.
– Alexander Hamilton, "The Reynolds Pamphlet" (1797)
[Editor's Note: Please take a moment during your "social media time" to visit Deep State Declassified on Facebook. With everything that's happening on Wall Street and around Imperial Washington, now's a great time to connect… And we can't do it without you. – D.A.S.]
Everybody is talking about the Mother of All Yield Shocks.
They just don't know it yet.
As he was brightening Bubblevision's Thursday, Jamie Dimon gave the bigger game away.
On CNBC around midday as part of a parade of Wall Street's old heads brought in to calm things down on a day the Dow Jones Industrial Average slid nearly 800 points, the JPMorgan Chase & Co. (NYSE: JPM) CEO said if there is a bubble, it's in U.S. government bonds…
Folks, the asset class "U.S. government bonds" includes the benchmark for the risk-free rate of return.
A lot of observers like the 10-year U.S. Treasury note as a good gauge for of the broadest possible view of credit markets. The two-year Treasury bill is another important "yield-stick."
It doesn't matter which you prefer, actually.
What does matter is that if a bubble supporting the risk-free rate of return bursts, it and all other rates will rise.
That means virtually all financial assets will be re-priced.
---
If You Need Your Money in the Next 5 Years…
America is at a crossroads. The middle class is disappearing… government spending is out of control… and the implosion of Bubble Finance will cause the greatest market crash in history. So, if you need access to your nest egg in the next five years and can't afford another market crash, it's time to take matters into your own hands. Find out what to do, right here.
---
Unless the momentum driven day-traders and robo-machines get another excuse to push market indexes back above their support lines, what happens next is the long-delayed reckoning.
The Mother of All Yield Shocks will return honest price discovery to a market where central banks are fast repairing to the sidelines. Chart-monkeys are no longer greenlit to "buy the f***ing dip."
This end-stage is Trump's Bubble, incepted at 2,130 on the S&P 500 Index on November 7, 2016 and expanded to the September 21, 2018, peak at 2,940.
That's a 38% gain, and the Tweeter-in-Chief loved it. But there never was a modicum of sanity to it.
The Donald never had a serious program to MAGA.
He did hold a dog's breakfast of prejudices, palliatives, and poppycock. And that stew, under the right circumstances, represented a fair bet that the Great Disruptor would finally sabotage the 10-year fantasy that followed hard upon Lehman Brothers' meltdown.
Wall Street wasn't working on solid earnings, time-worn fundamentals, and traditional multiples during that 38% rip to Peak Trump.
In fact, trailing-12-month earnings for the third quarter of 2018 came in at about $130 per share for the S&P 500. About $6 of that was the one-time impact of the new 21% corporate tax rate. That's going to "anniversary out" of first-quarter 2019 numbers.
Let's compare $124 per share of apples-to-apples earnings with the $106 share reported for the 12 months ended September 30, 2014.
The annualized growth rate amounts to a piddling 4.0%.  If you reach back to the $85 per share posted at the pre-crisis peak 11 years ago, for the 12 months ended June 30, 2007, it's just 3.5% per year.
Note, too, that this old and weak "recovery" is now well into month No. 114.
Even if it has a few more months, quarters, or even several years to run, there's no "revolution" out there capable of pushing the peak-to-peak earnings growth rate to even 5.0%.
Yet, even at today's plunging levels, price-to-earnings multiples stand at 21 times for the Dow and the S&P 500, 22 times for the Nasdaq 100, and 42 times for the Russell 2000.
And those multiples are based on badly falsified per-share numbers posted by during the final years of Bubble Finance. "Earnings" were generated by debt-fueled stock buybacks that were themselves the step-children of falsified debt costs.
It doesn't compute.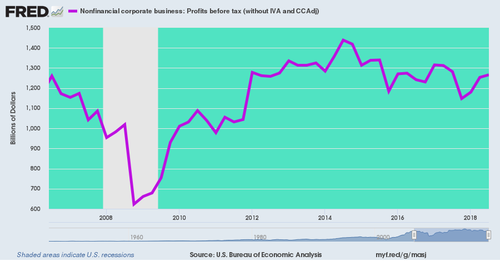 The Dow shed 784.85 points by its intraday nadir Thursday. That's 3.1%. A big rally meant it closed with a loss of just 79.40 points. That's 0.3%.
Today, it opened lower but rose as much as 147.95 points. It turned around by 10:30 a.m., and before noon, it seemed, the rout was on… again. It's minus 400 or so at last check.
It's all wrong.
Here's what I mean, courtesy of the latest entry in CNBC's open-ended series of crazy chyrons:
JOBS: SOFT BUT NOT WEAK
And I think that's when everybody realized what was going on, how nothing meant anything anymore, and it was time to sell…
Obviously not; we're only down about 2%.
But the reckoning is coming…
The Stockman Letter No. 3
When the Donald put his presidential signature on his Christmas Eve Tax Cut of 2017 and the GOP's Fiscal Debauch of 2019, it was a bet the consequences of such excess won't spring until well after he's left the White House.
Well, we'll see…
He certainly isn't doing anything to help his situation with his approach to the Middle Kingdom. There's his Trade War, of course. But there are other, deeper problems in play here.
Pay special attention when you read or hear the word "escalation" in coming days…
We explore some of the "second-order" issues regarding U.S.-China relations in the December issue of The Stockman Letter, out this afternoon, December 7.
It's an important "Mother of All Yield Shocks" story – especially if you want to protect your wealth and profit when opportunities present…

The horrible start to October has investors on high alert. This market bubble – inflated by the Fed's low interest rates and Republican tax cuts – may have finally run its course.…
Read More