What you need to remember, with these guys, is that they don't know they're con men. They're wildly overconfident. Omnipotence, omniscience – that's part of the mythology… Your guy can walk in the door and promise training in something he personally doesn't know how to do, and not even realize he's bullshitting about his own capabilities. It's a special kind of gullibility…
– William Gibson, Zero History (2010)
Well, the Federal Open Market Committee voted 10-0 to hold the target range for its benchmark interest rate unchanged.
It stressed that it'll be "patient" and dropped language suggesting more rate hikes are on the way. It also said it'll "adjust" its balance-sheet runoff if necessary.
In other words, the Tweeter-in-Chief got what he wanted – so did Wall Street.
Of course.
"Trumponomics" is now nothing more than Trade War/Border War populism plus fiscal debauchery plus monetary profligacy.
But the stock market boom of Trump's first 22 months wasn't even remotely the kind of endorsement you can take to the bank. Nor is today's 400-point spasm for the Dow Jones Industrial Average.
To the contrary, it's just another rip at the end of fantastical Fed-fed binge for Wall Street's speculators and robo-machines.
Oh, they've been rewarded – handsomely – by the Fed's liquidity injections, financial repression, and price-keeping operations. It's been this way so long they'd probably get bulled-up on a plan to harvest green cheese from the far side of the moon.
Alas, Main Street is betrayed yet again.
And this should have been evident all along.
To wit, between 1955 and 2000, inflation-adjusted compensation per hour (purple line) grew at a 1.75% annual rate. That's the purple line in the graph below. And that's the average across seven business cycle, including recession years.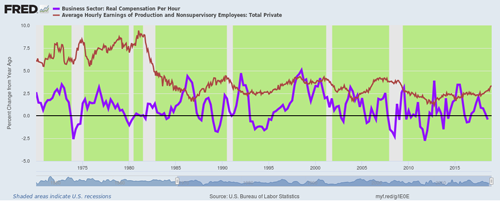 By contrast, we're now at the top of the second-longest economic "recovery" in history. And real compensation was up just 0.1% over the 12 months ending September 30, 2018.
That's not even "up" – it's a rounding error.
Indeed, that purple line shows that year-over-year real wage growth has now clocked in at virtually the weakest late-cycle gain on record.
And that's with an unemployment rate of 3.7%.
Note, too, that when the unemployment rate plunges below 4.0% there usually isn't much time left on the cyclical clock…
What we're seeing – from Wall Street as well as Main Street – are not responses to the Donald's policies and palaver at all.
It's simply residual momentum. Both the incoming macro data and the major equity indexes are essentially tracking the "last mile," so to speak, of the trends in motion for nearly a decade.
But these post-crisis debt-and-bubble-driven trends are not healthy. And they're not sustainable.
It's a fantasyland confected during a decade of the most reckless fiscal and monetary policies ever conceived.
Still, the very idea of boasting about the data prints of a badly impaired 115-month-old business expansion and a speculation-driven 119-month-old bull market smacks of rank amateurism and stunning political naiveté.
It's as if the Donald is serving up his own head – joyfully – to the Acela Corridor's elite.
But he never had a chance to "drain the swamp." And he has no idea how to fix what ails America, this self-proclaimed "low interest man."
It's all so ironic. Back on the campaign trail, he trashed the very Bureau of Labor Statistics numbers – appropriately so – he bully-tweets about now.
Indeed, way back in 2016, he used to cite my view that the only meaningful measure of unemployment is the share of total potential adult labor hours that are not employed in the monetized economy.
It's fair to question now whether the Donald ever had Main Street in mind when he set out to MAGA…
Maybe he just wanted to sell some hats.
For Clear-Eyed Asset Allocators Only…  
The crash of 2008-09 was not some "once in 500 years" economic ailment that needed to be "healed" with "extraordinary" policies like "ZIRP" and "QE."
To the contrary, the Great Financial Crisis was an intense but standard-issue bursting of a bubble. It's the inherent result of monetary central planning and the systematic falsification of financial asset prices.
It's going to happen again.
But it won't be "all at once," nor will it be a straight line down.
But we must prepare for a major re-pricing for all financial assets. And thousand-point intraday or day-to-day swings are part of that equation. Those can be frightening… for "buy and hold" investors.
I have a different approach, one that combines strategy and tactics into a plan flexible enough for you to survive and thrive amid the coming chaos. It's called "The Stockman Model."
All we're after is a little stability, perhaps a chance to pocket a windfall when opportunity presents…
Sincerely,

David Stockman
The horrible start to October has investors on high alert. This market bubble – inflated by the Fed's low interest rates and Republican tax cuts – may have finally run its course.…
Read More