The man who lies to himself and listens to his own lie comes to a point that he cannot distinguish the truth within him, or around him, and so loses all respect for himself and for others.
– Fyodor Dostoevsky, The Brothers Karamazov (1880)
Perhaps the Federal Reserve didn't simply cave to the "low interest man" in the White House and the easy-money fiends on Wall Street…
Maybe our monetary central planners are afraid of what's coming.
Indeed, this morning the Department of Labor reported that first-time unemployment claims jumped by 53,000 during the week ended January 26, 2019, to 253,000. That's the highest reading since September 30, 2017.
And it follows an uptick in the "headline" unemployment rate to 3.9% in December.
It's also wise to heed another Thursday morning warning, this onecourtesy of David Rosenberg, chief economist at Gluskin Sheff + Associates:
Memo to the bulls: be careful what you wish for. Lag between the time of the Fed pivot to ease and the recession is typically 6 months.
On Wednesday, Rosie highlighted some "anomalies" based on employment data gathered by payroll processor ADP.
Here's the type of tweetstorm Bubblevision would do right to obsess over, starting at 8:24 a.m. ET:
ADP came in strong at +213k in January so employment remains decent but we know output growth is softening sharply. Doesn't speak well for productivity
One can legitimately ask if the extra 33,000 workers in manufacturing (tied for best tally since Oct. 2014) and 35,000 in construction (most since Feb. 2017) stood around doing nothing last month.
Pending home sales slump 2.2% to a four-and-a-half year low just as ADP construction jobs soar 35k. Now you see what I meant about productivity??
Folks, ours is an economic Potemkin Village.
We need to get one thing straight before we go any further.
That headline-making unemployment rate you see is nonsense.
We got down to 3.7% in late 2018 only because the labor force participation rate has plunged.
In fact, at the same 3.7% "full" employment rate we last saw back when the "Maestro" was riding high in the late 1990s, the labor force participation rate was north of 67%. As of December 2018, the labor force participation rate was 63.1%.
That means the Donald's "lowest ever unemployment rate" rests on the back of about 16 million "disappeared" workers…
Based on today's economic and demographic realities, we've got to see the "comprehensive" unemployment rate drop. That's the only way Uncle Sam can find the tax receipts necessary to prevent a complete social collapse down the road.
But comprehensive unemployment has been rising for most of this century.
In December 2000, there were 175.5 million adults in the prime age 20 to 69 bracket. That's an implied potential labor force of 351 billion labor hours per year.
That same month, the Bureau of Labor Statistics measured 229.5 billion hours actually employed in the non-farm economy at an annual rate.
So, comprehensive unemployment amounted to 121.5 billion hours. That's 34.6% of the potential available hours.
Today, there are 212.3 million adults age 20 to 69, and the total labor hours per year available is 424.6 billion.
According to the most recent BLS data, 255.6 billion hours are actually employed. That means there are 169 billion unemployed labor hours.
And that's a comprehensive unemployment rate of 40%.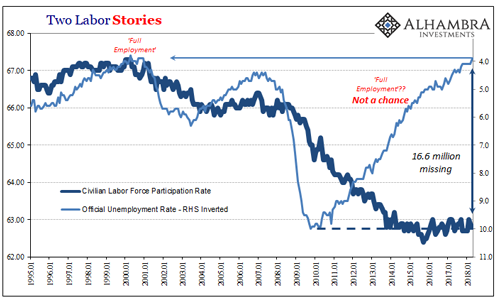 Here's another way of looking at what is the central problem of our economy.
Between the two 3.7% anchor points on the headline U-3 unemployment rate during the last 18 years, the level of unemployed U.S. labor has increased by nearly 48 billion hours on an annualized basis.
Potential labor grew by 73.6 billion hours, or by 1.06% per year. But employed hours rose by only 26.1 billion, or 0.59% per year.
There's the skunk in the woodpile, folks: Barely half the newly available labor hours are being put to work.
The bottom line is the U-3 unemployment rate is a useless measure of labor market or macroeconomic health.
There's about as much value in it as there is in the Fed's endless pegging of money market rates and massive intrusion in the bond markets.
The evidence is overwhelming.
All monetary central planning does is foster malinvestment, foul up productivity, feed Wall Street, and fleece Main Street.
Are You Ready for What's Next?
The crash of 2008-09 was not some "once in 500 years" economic ailment that needed to be "healed" with "extraordinary" policies like "ZIRP" and "QE."
To the contrary, the Great Financial Crisis was an intense but standard-issue bursting of a bubble. It's the inherent result of monetary central planning and the systematic falsification of financial asset prices. And it's going to happen again.
Indeed, we're going to talk about two emerging factors in the coming collapse in the next issue of The Stockman Letter…
And it'll be out tomorrow.
Are you prepared for a major re-pricing of all financial assets? How do feel about thousand-point intraday and/or day-to-day swings?
At the center of The Stockman Letter is "The Stockman Model." It combines strategy and tactics into a plan flexible enough for you to survive and thrive amid the coming chaos.
All we're after is a little stability, perhaps a chance to pocket a windfall when opportunity presents.

David Stockman
The horrible start to October has investors on high alert. This market bubble – inflated by the Fed's low interest rates and Republican tax cuts – may have finally run its course.…
Read More