Experience demands that man is the only animal which devours his own kind, for I can apply no milder term to the general prey of the rich on the poor.
– Thomas Jefferson, "Letter to Edward Carrington," January 16, 1787
The chart monkeys are rampaging today, with the S&P 500 Index breaking above its 200-day moving average with authority…
Meanwhile, news from the real world provides stark warning of the reckoning to come on Wall Street.
It's true we're in the middle of a "national emergency." But neither the Tweeter-in-Chief nor anyone else in Imperial Washington gets it.
"It" has little to do with the southern border. The real national emergency is what's happening on Main Street.
As we discussed yesterday, retail sales took their steepest dive in nearly a decade in December. And folks are falling behind on their auto loan payments at historic rates.
That follows closely on news that factory orders declined by 0.6% in November on the heels of a 2.1% slide in October.
All recent data contradict the idea that the U.S. economy is accelerating because of the Donald's tax cut.
And these are just headline numbers. Below the surface, it's much worse.
Underneath that factory orders number, for example, are some sobering numbers on new orders for capital goods excluding defense and aircraft. That's shorthand for business capital expenditure, or CAPEX.
As a technical matter, it feeds right into the gross domestic product (GDP) accounts for fixed investment by America's businesses.
Here's the thing: CAPEX orders are actually rolling over. And that's a dagger right in the heart of the Trumped-up GOP cut in the corporate tax rate to 21%.
This picture, like they all do, tells a story…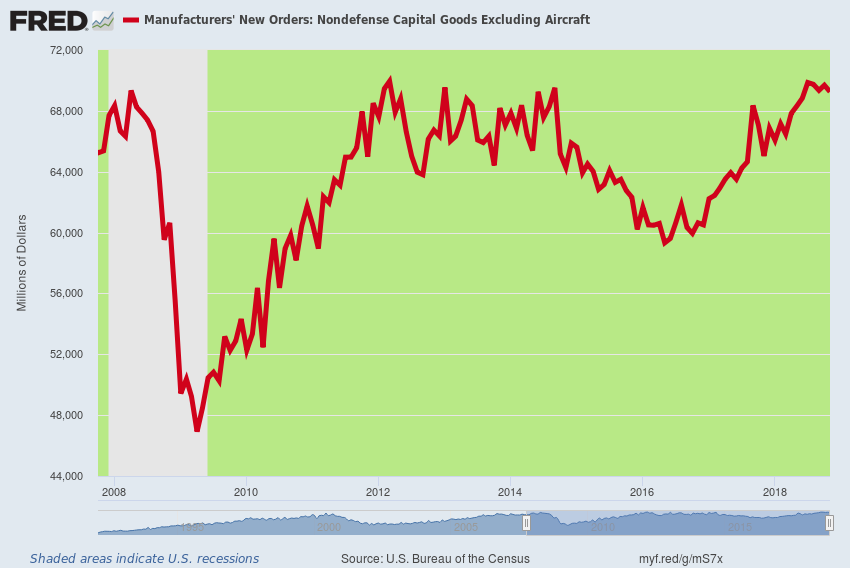 It also puts the lie to the "strongest economy ever" meme pushed by the Tweeter-in-Chief and promoted on Bubblevision.
They'd have you believe there's no recession in sight. They want you feeling safe to "buy the dip."
Just don't do it. There's no "there" there…
CAPEX orders reached a pre-Global Financial Crisis peak nearly 11 years ago, in April 2008, when the Census Bureau posted the monthly number at $69.3 billion.
CAPEX orders for November 2018 were $69.255 billion – and it's been goosed by an 18% rise in prices in the interim, as measured by the GDP deflator.
Yes, you're reading that right: The "biggest tax cut ever" and the "greatest stimulus to business investment ever enacted" created no CAPEX boom.
Indeed, in real terms, CAPEX is 18% lower than it was a decade ago.
There's no sign of shorter-term stimulation, either.
To wit, during the three-month period ended November 30, 2017, CAPEX orders averaged $802 billion on an annualized basis. The annualized rate for the three months ended November 30, 2018, was $832 billion.
So, CAPEX is up by $30 billion on an annualized basis – and all Uncle Sam had to do was borrow $222 billion to make it happen.
A payback of 13 cents on the dollar is nothing to write home about, let alone tweetstorm over…
But it's the longer-term fiscal path that make matters infinitely worse.
The U.S. Treasury will pay about $10 billion per year to service that new $222 billion of debt.
And, as a dynamic macroeconomic matter, "right now" is about is as good as it gets on the tax incentives front.
The Donald and his Trumpified GOP huffed and puffed and blew a great big hole in the deficit with their massive tax cut.
They used Uncle Sam's credit card to make a gift to the top 1% and top 10% of households, which own 40% and 85% of corporate equities, respectively.
And Main Street got literally nothing.
There's your "national emergency."
A Sound Model
Desperate times call for… "common sense" measures.
And these are desperate times… Markets are corrupted by monetary central planning. They're confused. And the road back is going to be treacherous.
We're looking at a major re-pricing for all financial assets. And thousand-point intraday or day-to-day swings are part of that equation. Those can be frightening… for "buy and hold" investors.
I have a different approach, one that combines strategy and tactics into a plan flexible enough for you to survive and thrive amid the coming chaos. It's called "The Stockman Model."
All we're after is a little stability, perhaps a chance to pocket a windfall when opportunity presents…

David Stockman
America is at a crossroads. The middle class is disappearing… government spending is out of control… and the implosion of Bubble Finance will cause the greatest market crash in history. So, if…
Read More