All the world is made of faith, and trust, and pixie dust.
– J.M. Barrie, "Peter Pan" (1904)
When the Duopoly comes for the Donald, they better be fast and hard about it.
Because the Great Disruptor's going to lash back with even more bile, bombast, braggadocio, and bullshit. It might be enough to win him four more years of White House sanctuary. It may even suffice to topple the Acela Corridor's entire house of cards.
He still signifies the climax of three decades of Bubble Finance-blown windfalls for Wall Street and Imperial Washington.
Still, when the history's written, they'll wonder why nobody saw it coming. It's just like the dot-com crash in April 2000 and Lehman Brothers' meltdown in September 2008.
Indeed, Bubblevision's euphoric blindness can be terminal for your portfolio…
Today, they don't even bother with a "this time is different" theory, as in early 2000. Nor is anyone trotting out "Goldilocks economy" arguments. That was the narrative during the 2007-08 run-up to the Global Financial Crisis.
Maybe, after 30 years of monetary central planning run amok, Wall Street is conditioned to live strictly and forever in the moment.
They're inured to liquidity floods, Greenspan/Bernanke/Yellen/Powell Puts, and other timely stick saves. They've grown accustomed to "wealth effects" coddling.
They're Peter Pans in Neverland, where the economy is always on the upswing and the bull cycle has an infinite horizon… "Grow old and grouchy never!"
Principles of sound finance and market analysis that may give warning to the trouble ahead are long forgotten. Discarded, even, by those who should know better…
I run into it all over Bubblevision – from MSNBC to Fox Business.
They love to point out factoids, including the "best growth in 13 years" line about that 3.1% expansion in gross domestic product (GDP) from the fourth quarter of 2017 through the fourth quarter of 2018.
There's the obvious point that we saw a 3.8% year-over-year gain for the third quarter of 2015. It was on Obama's watch. But it didn't last… because the U.S. economy is structurally weak, debt-impaired, and subject to the China-driven global production and trading system.
Nor does it matter that it was a sugar high. Nobody cares about Trade War dislocations that generated export and inventory surges. Nor is it noted that a consumption spending boost was financed on Uncle Sam's credit card. These hits won't satisfy us in 2019…
That's evident in the most recent forecasts for first-quarter GDP growth. The Atlanta Fed's GDPNow says it's looking like 0.4%. Others – among them the New York Fed and Goldman Sachs – have similarly downcast reads on the incoming data.
Construction spending, for example, was down again in December. That key measure of economic activity now stands 2.3% below the post-Trump tax cut blip registered in May 2018.
Exactly 13 years ago, in March 2006, nominal construction spending posted at a seasonally adjusted annual rate of $1.205 trillion. That figure was $1.293 trillion for December 2018.
Adjusted to current purchasing power, the March 2006 figure for construction spending in the U.S. economy would be $1.505 trillion, or more than 16% above current levels.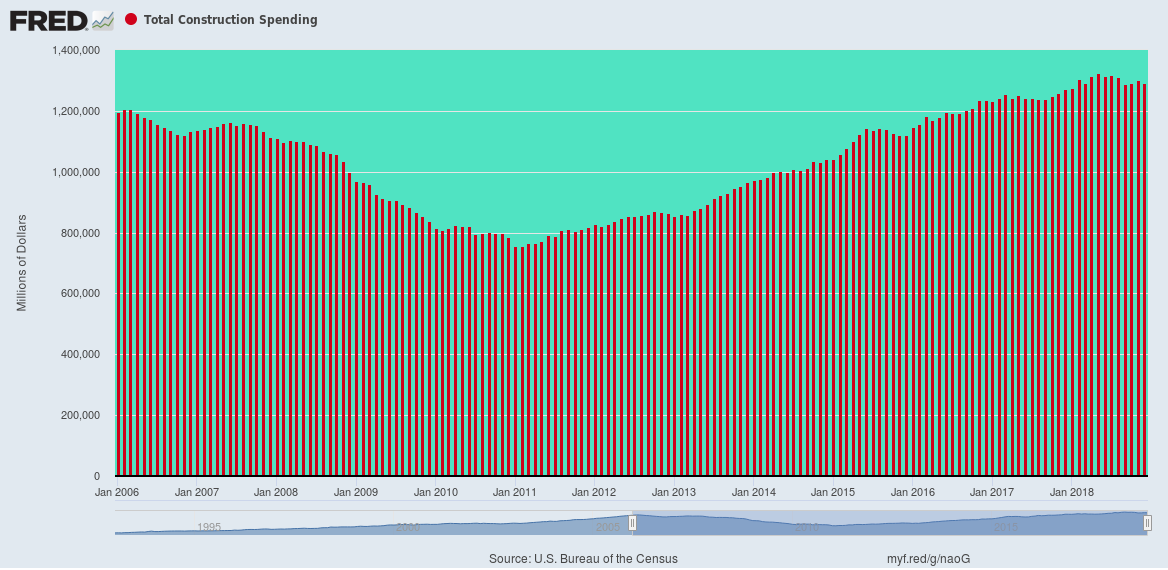 Not only has this component of capital spending rolled over. It never really escaped the housing crash doldrums at all…
Doesn't matter, either, that we've posted the worst 11-year cycle of real GDP growth in U.S. history. Cumulative real GDP growth from 2007 through 2018 was 18.9%. It was 19.9% during the 1929-to-1940 period. That's otherwise known as the Great Depression.
The truth is we've merely drifted into the final days of an old and weak recovery. It's pure momentum, even as policy gets decidedly worse.
The great delusion of the moment is that U.S. GDP growth accelerated due to the magic of Trumponomics.
Wait 'til they find out it was all fantasy…
A Model for the Real World
Desperate times call for… "common sense" measures.
And these are desperate times… Markets are corrupted by monetary central planning. They're confused. And the road back is going to be treacherous.
We're looking at a major re-pricing for all financial assets. And thousand-point intraday or day-to-day swings are part of that equation. Those can be frightening… for "buy and hold" investors.
I have a different approach, one that combines strategy and tactics into a plan flexible enough for you to survive and thrive amid the coming chaos. It's called "The Stockman Model."
All we're after is a little stability, perhaps a chance to pocket a windfall when opportunity presents…
To common sense,

David Stockman
The horrible start to October has investors on high alert. This market bubble – inflated by the Fed's low interest rates and Republican tax cuts – may have finally run its course.…
Read More