Somebody has to do it, don't you see? Somebody has to save the world…
– Alan Moore and Dave Gibbons, Watchmen (1986-87)
Wall Street's algorithms and robo-machines have been grinding out a recovery from the Christmas Eve blowout low so far this year.
Today, for example, the S&P 500 Index had reached as high as 2,862.19 as of lunchtime, up nearly 1% from last Friday's close. But that index is still no higher than it was nearly eight months ago, when it first approached these levels on the upside.
We've been above the 200-day moving average for a month and a half. And we just closed out the best first quarter of a trading year since 1998.
Meanwhile, Peak Trump on September 21, 2018, at 2,940.91, continues to fade into the rearview mirror. In an honest free market, of course, the S&P 500 wouldn't be anywhere near 2,862. It'd be heading south under gale-force winds from all points on the global economic compass.
For instance, the Baltic Dry Index continues to weaken.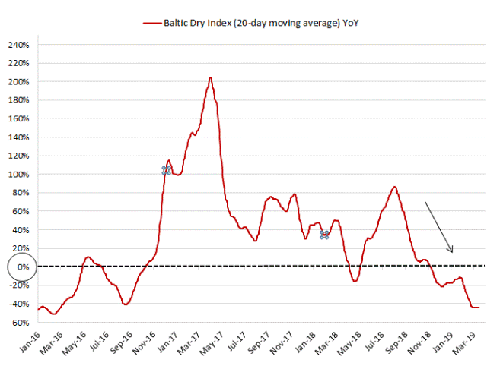 This measure of global freight traffic is reinforcing the message from just about every monthly export report since last fall. The global economy is accelerating toward recession. That's the case despite a full decade of extraordinary monetary central planning and massive stimulus.
Indeed, South Korean exports have long been a bellwether for the world economy. And the trend since the Donald's Trade War blew into full swing last summer couldn't be more obvious. Global economic activity is swooning.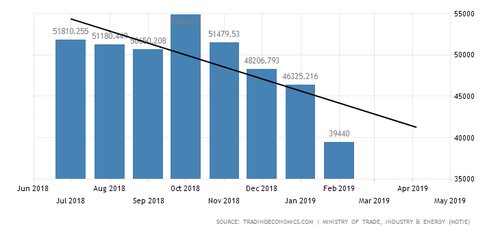 As for the "decoupling" meme Bubblevision's permabears love to trot out, well… we've been there more than once before.
In the spring of 2008, those talking heads insisted what was underway was only a "pause that refreshes." The Federal Reserve would keep Wall Street levitated and Main Street satisfied.
South Korea's export readings eased on down… right into the Great Recession…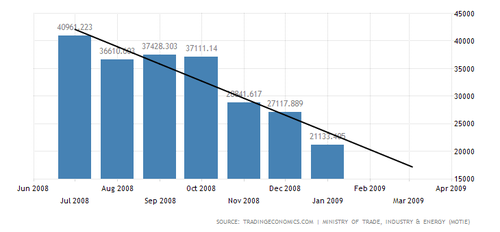 The same pattern is now evident for Japan. This time, it's all about the Red Ponzi. When the last Chinese credit impulse dissipated in mid-2017, once a pre-coronation economic surge was engineered, Japan's mini export recovery also rolled over.
Japanese exports are heading sharply south now, too.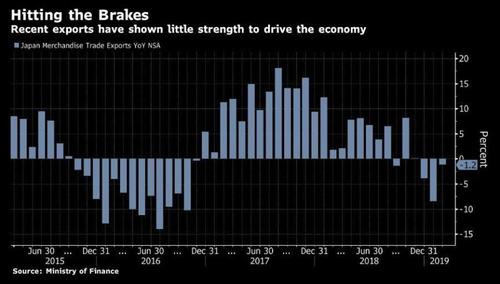 OK, here's the point… It's only a matter of months before the 1% growth estimate for first-quarter U.S. domestic growth rolls over into the global drink.
Still, the fact is there's not a single rational reason for the Federal Reserve to reject "normalization" with the money-market rate still at a rock-bottom 2.4% and its balance sheet egregiously bloated at $4 trillion.
There's no plausible reading of the Humphrey-Hawkins mandate that empowers the Eccles Building to further falsify prices of financial assets based on current U.S. economic data. But the Federal Reserve has indeed signaled it'll do everything in its monetary powers to keep things rolling in Wall Street's favor.
The impending failure of the $40 trillion Red Ponzi, a massive credit scheme to keep the Communist Party of China in power? The old-age colony that is Japan stumbling toward bankruptcy? France's dirigisme sparking rebellion in the streets of Paris? Great Britain teetering on ungovernable?
Well, the Federal Reserve is now the central bank of the world. That's why the Powell Pivot, as the Donald's man himself told "60 Minutes":
"Patient" means that we don't feel any hurry to change our interest rate policy. What's happened in the last 90 or so days is that we've seen increasing evidence of the global economy slowing down, although our own economy has continued to perform well… Generally speaking, the U.S. economy is coming off a very strong year last year… We've seen a bit of a slowing… But I would say the principal risks to our economy now seem to be coming from slower growth in China and Europe and also risk events such as Brexit.
There is no remaining reason for the market to go higher – except that the Fed's rate-hiking pause is permanent and "quantitative tightening" (QT) will be done by October.
As of the March meeting of the Federal Open Market Committee, our central bank will have kept the real "carry trade" cost at zero or below for nearly the entire decade from the March 2009 bottom. With the end of QT, it will have monetized more than $3 trillion of debt so far in the 21st century.
Wall Street is now capitalizing central bank folly. The end must surely be near.
Portfolio's Salvation
Desperate times call for… "common sense" measures.
And these are desperate times… Markets are corrupted by monetary central planning. They're confused. And the road back is going to be treacherous.
We're looking at a major re-pricing for all financial assets. And thousand-point intraday or day-to-day swings are part of that equation. Those can be frightening… for "buy and hold" investors.
I have a different approach, one that combines strategy and tactics into a plan flexible enough for you to survive and thrive amid the coming chaos. It's called "The Stockman Model."
All we're after is a little stability, perhaps a chance to pocket a windfall when opportunity presents…
To common sense,

David Stockman
The horrible start to October has investors on high alert. This market bubble – inflated by the Fed's low interest rates and Republican tax cuts – may have finally run its course.…
Read More