Sorcery is the sauce fools spoon over failure to hide the flavor of their own incompetence.
– George R.R. Martin, A Clash of Kings (1998)
This bears repeating…
From the end of the first quarter of 2012 up to today's fresh all-time high, the S&P 500 Index has risen by 109.7%.
Meanwhile, pre-tax corporate profits declined from an annual "run rate" of $2.20 trillion as of March 31, 2012, to $2.18 trillion as of December 31, 2018.
And, yet, here's Bubblevision, lost in another giddy flight of speculative euphoria. They can't see more than a few days ahead or a couple paragraphs deep into a data release…
Let's begin with last Friday's report on first-quarter gross domestic product (GDP).
According to the Department of Commerce, the U.S. economy grew at an annualized rate of 3.2% over the three months ended March 31. But this was a low-quality report. It was all one-offs: lower imports, higher inventories, and rising "defense" spending.
Real final private sales grew at a puny annualized rate of 1.3%.
As David Rosenberg put it, "Removing more lipstick from this pig shows cyclically adjusted GDP contracting at a 2% annual rate." That's the deepest decline in nearly a decade.
Consumer durables production virtually collapsed, falling at an annualized rate of 15%. That takes out all the gains since 2016. In fact, we're back to the late stages of the 2008-09 recession.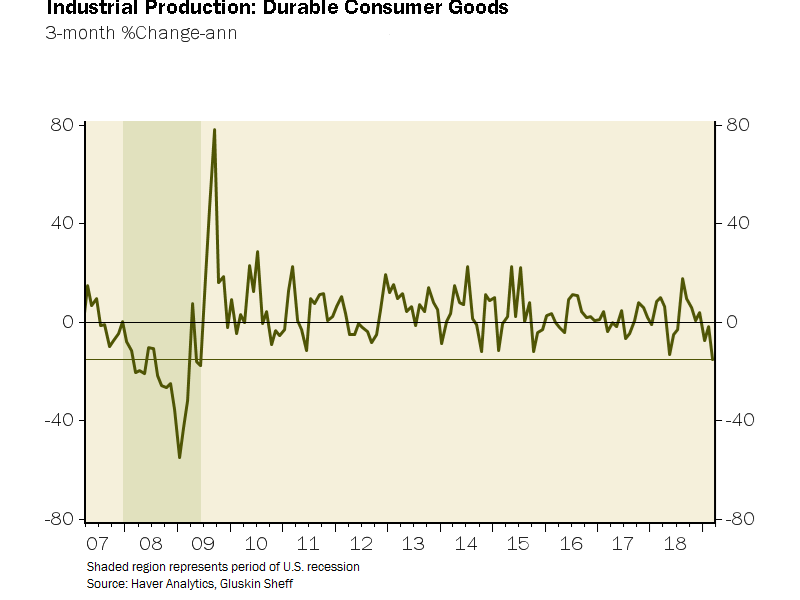 Here's more "low quality," fresh from Commerce on Monday: The steepest drawdown in the savings rate in six years accounted for all of the 0.7% growth in consumer spending in March.
It's more evidence that the Trump Boom was nothing more than a deficit-fueled sugar high.
As of May 1, the Federal Reserve Bank of Atlanta's GDPNow tool forecasts 1.2% GDP growth for the second quarter.
Bubblevision wants to talk about global growth. Let's do…
Statistics Canada just reported that GDP in the Great White North contracted by 0.1% in February. The finance, manufacturing, mining, and oil and gas sectors all shrank. It's important to note that Canada is considered a decent barometer for what's happening around the world…
So, let's look farther afield… and bigger, too…
Indeed, Bubblevision got excited all over again when China's Statistics Ministry reported earlier this month that the Middle Kingdom's GDP growth for the first quarter was 6.4%. That beat a consensus forecast of 6.3%.
Except that a simple Google search reveals that China "beats" by 0.1% practically every quarter.
Beijing sets the growth targets and filters them down through the party apparatus. That includes the giant state-controlled banks and industrial enterprises. From there, the government provides whatever it takes – new credit, fresh bribes, sometimes punishment, too – to deliver the plan.
That's how the Red Ponzi grows by remarkably consistent rates quarter after quarter.
At the center of that scheme is a fixed investment driver from which all other activity in China flows. It was growing at more than 20% per year as recently as 2013. Since then, it's steadily deflated by two-thirds, to just 6.3% during the year ended March 31.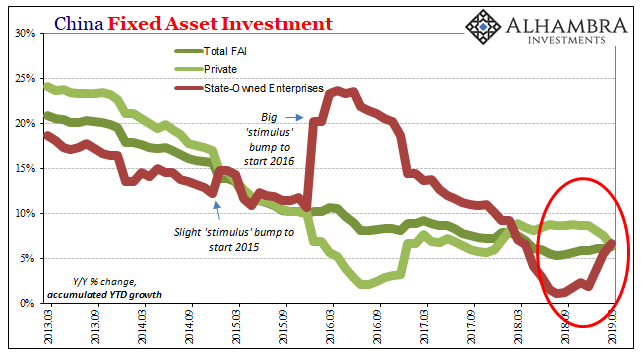 A similar story is unfolding in Germany. Industrial orders fell by the biggest margin in more than two years in February, slumping 4.2%. That badly missed consensus expectations for a 0.3% rebound.
And it highlights, instead, the extent of the slowdown amid the Donald's ongoing Trade War. Escalation into Europe is the next step…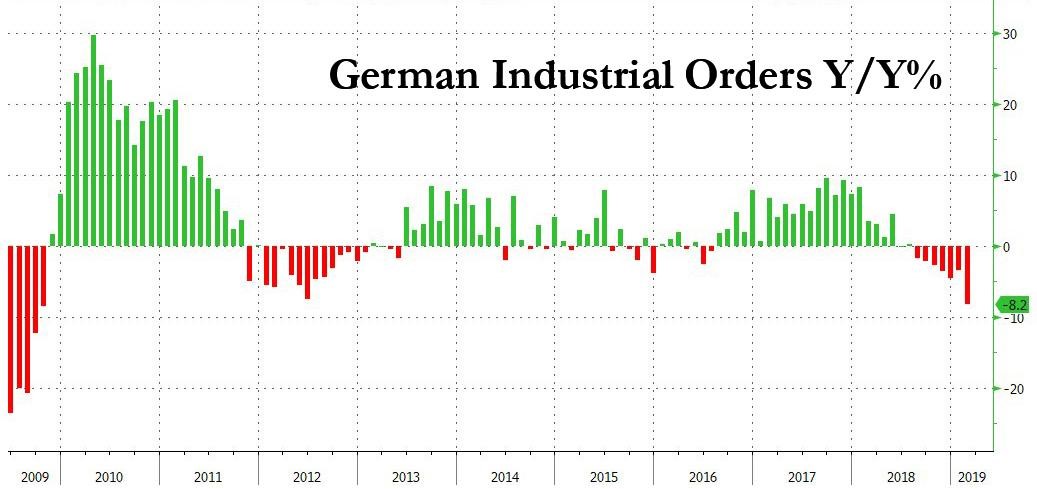 Bubblevision sees none of this – and for a good reason…
They have been so house-trained by the notion that, when all else fails, the State will step in. Monetary central planning means another dose of "stimulus" is just a click away.
They can't imagine the possibility that governments and their central banks all over the world are – or will ever be – out of dry powder.
And that's all the "reason" there is for today's new record.
Before It Pops
Desperate times call for… "common sense" measures.
And these are desperate times… Markets are corrupted by monetary central planning. They're confused. And the road back is going to be treacherous.
We're looking at a major re-pricing for all financial assets. And thousand-point intraday or day-to-day swings are part of that equation. Those can be frightening… for "buy and hold" investors.
I have a different approach, one that combines strategy and tactics into a plan flexible enough for you to survive and thrive amid the coming chaos. It's called "The Stockman Model."
All we're after is a little stability, perhaps a chance to pocket a windfall when opportunity presents…
To common sense,

David Stockman
Former White House Budget Director, David Stockman is stepping forward in his new project, The Stockman Letter to warn everyone about the serious danger facing our country! Click here to find out the…
Read More