Let's compete freely. Goddam tariffs! Free trade and free seas – that's what's right!
– James Clavell,
Tai-Pan (1966)
…
It's true that the Donald's threat to raise tariffs on $200 billion of Chinese from 10% to 25% got real as of today.
And, as of lunchtime, we were looking at another triple-digit down day for the Dow Jones Industrial Average.
I thought it a little soon for Bloomberg's "Here's What an All-Out Trade War Looks Like in Global Markets" headline. And, indeed, by this afternoon, the Dow had turned green.
The China Trade Deal game is on like it's never been.
It started last weekend, with the Tweeter-in-Chief expressing his dissatisfaction at the pace of Trade War negotiations. The Dow gapped down nearly 350 points at Monday's open, and it was off as much as 471 points before Bubblevision cranked up the "on again" music.
The final loss was just 66.47 points, but a pattern was set. On Tuesday, the Dow was down 160-plus at the open and slid nearly 650 points but the red number at the end of the day was just 473.39.
Wednesday was a respite. But Thursday saw another 450-point slide. And today's more of the same…
All told, it's more than a thousand points – 1,035.09, to be exact – from last Friday's close to today's low on the Dow.
It evokes the punchline to the old "what do you call 500 lawyers at the bottom of the ocean" joke… it's a good start.
The Trade War is a big deal. It's major background noise for the May issue of The Stockman Letter.
It's pretty simple this month: We talk about Apple (Nasdaq: AAPL), and we talk about jobs. Both, of course, have been impacted by the greatest arbitrage in economic history. And we provide some detail on how to invest on these themes.
The U.S.-China relationship is major… but it's a major subplot right now.
That's because – after 119 months and unprecedented fiscal and monetary stimulus, the U.S. economy is stagnating. It's beset by mounting debt. It's burdened by speculation. It's bogged down in a pointless tariff tit-for-tat.
And we're edging closer and closer to a day of reckoning.
Consider that 3.2% annualized growth rate for gross domestic product (GDP) blown up all over Bubblevision in late April and early May.
All quarterly GDP numbers are suspect by nature; they're "seasonally adjusted," and they're subject to multiple revision. But the report from the Commerce Department on the first quarter of 2019 wins the prize for noise-to-signal ratio.
That's because of huge, abnormal fluctuations in flows stemming from the Donald's Trade Wars. There's also the normal volatility of inventory stocking/destocking.
The reality is the headline first-quarter GDP number does not reflect what lies beneath.
Imports are inherently a debit to GDP. But when the quarter-to-quarter rate of change goes negative, which is rare, they add to the headline GDP print.
Likewise, inventory change essentially washes over time. But since it fluctuates sharply from quarter to quarter, the "second order" rate of change from the prior period can either sharply goose or sharply punk the headline number.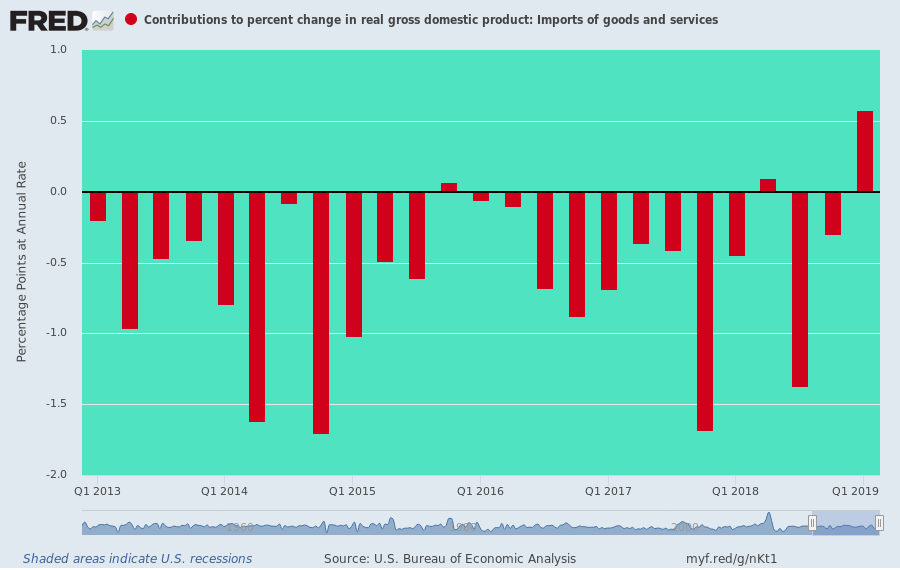 For instance, last year, inventory stocking added 2.33% to third-quarter real GDP. But it subtracted 1.17% in the second quarter. For 2018, imports subtracted an average of 0.51% per quarter in the normal manner.
The first quarter of 2019 brought a perfect storm. Inventories added 0.65% to the headline figure. And imports – because they declined from the fourth quarter – added 0.58% to it.
That was not honest-to-goodness economic growth. It was just payback for the surge of imports in the fourth quarter designed to beat the threatened increase of the Donald's China tariff from 10% to 25% at the turn of the year.
If you remove imports and inventories from the headline number, first-quarter growth clocks in at an annualized pace of just 1.97%. On this ex-inventories, ex-imports basis, growth was 2.01% in the fourth quarter of 2018, 2.44% in the third, and 5.27% in the second.
When you cut through the noise, it's clear the U.S. economy is crashing, hard, after a sugar high in the second quarter of 2018.
As it seems is so often the case in the era of Bubble Finance, what's celebrated as "good news" is really another sign fundamental economic deterioration.
But neither Wall Street nor Imperial Washington cares about those pesky internals…
Get Some Depth
Desperate times call for… "common sense" measures.
And these are desperate times… Markets are corrupted by monetary central planning. They're confused. And the road back is going to be treacherous.
We're looking at a major re-pricing for all financial assets. And thousand-point intraday or day-to-day swings are part of that equation. Those can be frightening… for "buy and hold" investors.
I have a different approach, one that combines strategy and tactics into a plan flexible enough for you to survive and thrive amid the coming chaos. It's called "The Stockman Model."
All we're after is a little stability, perhaps a chance to pocket a windfall when opportunity presents…
To common sense,

David Stockman
The horrible start to October has investors on high alert. This market bubble – inflated by the Fed's low interest rates and Republican tax cuts – may have finally run its course.…
Read More