"Fool!" cried the hunchback. "You fell victim to one of the classic blunders. The most famous is 'Never get involved in a land war in Asia.'"
– William Goldman,
The Princess Bride (1973)
…
The S&P 500 Index is up more than 1% today, and the Dow Jones Industrial average has added more than 250 points. Tech is on fire again, with the Nasdaq Composite adding 1.3% to lead the major indexes.
That puts stocks in the green for the week – quite a development given what Monday and Tuesday looked like.
Even Bubblevision is questioning whether investors have gotten "too optimistic too quickly."
But, then, it's only a Trade War. And, according to the Tweeter-in-Chief, "Trade wars are good, and easy to win." Also, "Tariffs will make our Country MUCH STRONGER, not weaker."
Well, now, since we've got that cleared up, let's move along… to Open War with Iran.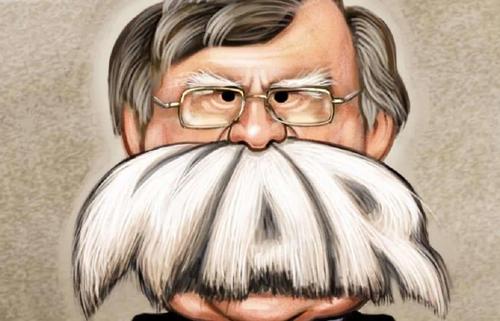 You may not have noticed it with all the action on Wall Street.
But, on Monday, The New York Times reported that "Acting Defense Secretary Patrick Shanahan presented an updated military plan that envisions sending as many as 120,000 troops to the Middle East should Iran attack American forces or accelerate work on nuclear weapons."
According to "administration officials," the updates "were ordered by hard-liners led by John R. Bolton." John Bolton is the Donald's National Security Adviser. He's a diehard neocon, and he's been itching for a wider Middle East war for decades.
The White House had already announced, on May 5, the deployment of a carrier strike group to the Persian Gulf "to send a clear and unmistakable message" that the U.S. was "fully prepared" to retaliate against some unspecified Iranian threat…
Lo and behold, that Monday NYT story coincided with sketchy reports of attacks on four oil tankers in the Gulf. And Saudi Arabia followed up Tuesday with an announcement that armed drones hit two of its oil pumping stations.
According to a "U.S. government source," American security experts believe Iran gave its "blessing" to the attacks near the Strait of Hormuz.
Of course, these dramatic events follow equally dramatic warnings of Iranian aggression in the region.
And they follow the Donald's move to cut off Iran's oil exports and to designate its Revolutionary Guards as a "foreign terrorist organization."
Probably The Onion framed it best: "John Bolton: 'An Attack On Two Saudi Oil Tankers Is An Attack On All Americans.'"
The Deep State sure has a deep playbook to consult when it comes to ginning up war. It's all so redolent, of course, of 2002-03, Dick Cheney, Judith Miller, and WMD. But then there's this August 1964 Gulf of Tonkin vibe too…
Are they even trying anymore? Do they even need to?
There is some pushback, though, with an "administration official" telling The Washington Post that "Trump is annoyed" because Bolton and Secretary of State Mike Pompeo "are getting way out ahead of themselves."
This official wants us to hold fast to an image of the Donald as non-interventionist. That's hard to reconcile with his choices of Bolton and Pompeo to lead his national security policy.
That illegal 2003 invasion and occupation of Iraq that's left an estimated 5% of that country's population dead? Bolton still thinks that was a good idea. And he's pushed for "regime change" in Iran going back decades.
He knows what he's doing.
The Donald? Well, first he called the report of the updated plan for 120,000 troops to attack Iran "fake news."
Then he endorsed it: "Would I do that? Absolutely." Then he denied it: "But we haven't planned for that." Then he escalated it: "And if we did that, we'd send a hell of a lot more troops than that."
John Bolton knows about the Donald what Lewis Carroll knew about the Queen of Hearts: They embody "ungovernable passion – a blind and aimless Fury."
Good God, Y'all…
Desperate times call for… "common sense" measures.
And these are desperate times… Markets are corrupted by monetary central planning. They're confused. And the road back is going to be treacherous.
We're looking at a major re-pricing for all financial assets. And thousand-point intraday or day-to-day swings are part of that equation. Those can be frightening… for "buy and hold" investors.
I have a different approach, one that combines strategy and tactics into a plan flexible enough for you to survive and thrive amid the coming chaos. It's called "The Stockman Model."
All we're after is a little stability, perhaps a chance to pocket a windfall when opportunity presents…
To common sense,

David Stockman
Former White House Budget Director, David Stockman is stepping forward in his new project, The Stockman Letter to warn everyone about the serious danger facing our country! Click here to find out the…
Read More