Manufacturing is not buying low and selling high. It is the process of buying materials fairly and, with the smallest possible addition of cost, transforming those materials into a consumable product and giving it to the consumer. Gambling, speculating, and sharp dealing, tend only to clog this progression.
– Henry Ford,
My Life and Work (1922)
…
Ford Motor Company (NYSE: F) announced this morning that it's cutting 10% of its global salaried workforce.
The stock is down 0.29% a couple hours ahead of today's close. That means it's outperforming the broader S&P 500 Index, which is off 0.58% as of this writing. Makes perfect sense in this market, where Wall Street wags Corporate America.
Uber Technologies (NYSE: UBER) is down another 1.8%, so the environment is not as irony-rich as it could be. That F's market cap is $40 billion and UBER's is $70 billion still packs plenty of symbolism in this easy, empty era…
Recalls the factoid I shared on Friday, that we've added $3.75 of new debt for each new dollar of nominal gross domestic product (GDP) since 2007.
That's the kind of "recovery" you get with monetary central planning.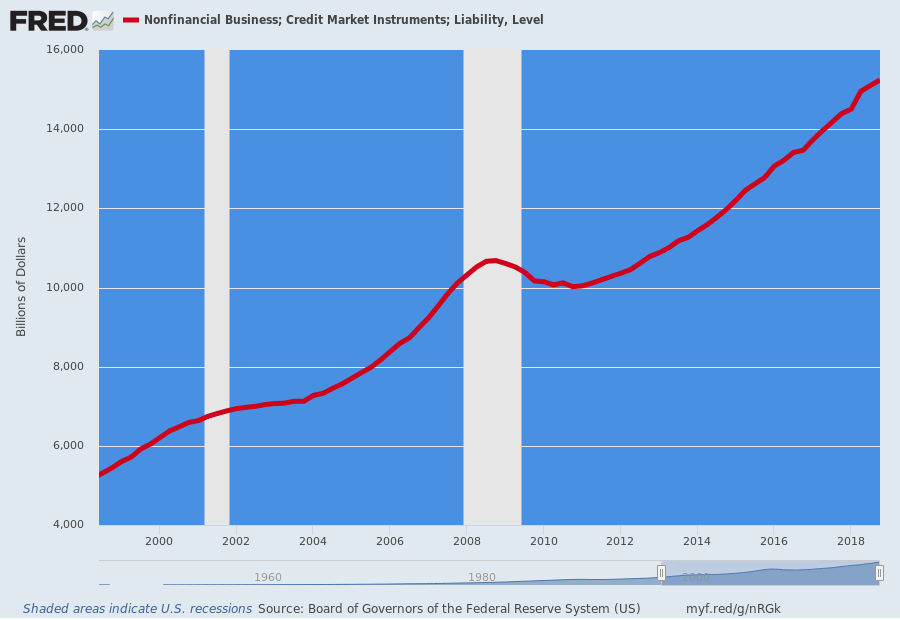 The S&P 500 Index hit 1,576.09 on October 11, 2007. It was priced at 18.5 times reported earnings of $85 per share for the trailing 12 months ended June 30, 2007.
From there, the S&P 500 executed a stomach-churning cliff dive. Over the next 18 months, it fell by 58%. It hit 666.79 on March 6, 2009. Reported earnings based on Generally Accepted Accounting Principles (GAAP) plunged by 91% to $7.50 per share.
What happened in between was the collapse of the subprime mortgage market in 2007-08. That led to Lehman Brothers' implosion and Wall Street's meltdown in September 2008.
Soon, it was known as the "Global Financial Crisis. And, of course, Main Street enjoyed its Wall-Street-woe-begotten twin, the "Great Recession."
Indeed, these were high-drama Acela Corridor productions designed for consumption by the unwashed masses of Flyover America and Bubblevision's Jim Cramer home-gamers.
According to the narrative, the GFC was an utterly improbable, 100-year-flood event.
And only Benjamin Bernanke's courage to print saved us from a complete and total wipeout of not just the U.S. economy but the whole system of global commerce.
By the spring of 2009, it was safe to buy the dip. There were soon all sorts of "green shoots," and the economy was in recovery.
It looks like the stock market is priced pretty close to perfection. It's at least as close as it was 12 years ago.
Let's take a fresh look at the numbers.
The S&P 500 hit an intraday high of 2,853.86 on Monday. With about 85% of first-quarter earnings posted, the reported trailing-12-months number was running at $132.75 per share. That's $125 per share on the old tax rate (35%) in effect on October 1, 2007.
So, the S&P 500 is trading at 22.1 times reported earnings.
Wall Street has upped its top-of-the-cycle capitalization rate on apples-to-apples earnings by about 20% — from 18.4 times to 22.1 times – over the last 12 years. Why?
On just about any measure of financial or economic health you please, U.S. fundamentals are in far worse shape today than they were in October 2007.
For instance, the public debt was $9.1 trillion then. It's $22.4 trillion today. The Federal Reserve's already bloating balance sheet had reached about $900 billion. It's $3.9 trillion today.
The S&P 500 reached a new peak in early May. And that's good for Wall Street. But wages for working Americans have been stagnant for the whole 21st century.
We've found a way to borrow ourselves to Main Street destruction and Wall Street prosperity.
It used to be about Ford. Now it's all Uber.
A Remedy
Desperate times call for… "common sense" measures.
And these are desperate times… Markets are corrupted by monetary central planning. They're confused. And the road back is going to be treacherous.
We're looking at a major re-pricing for all financial assets. And thousand-point intraday or day-to-day swings are part of that equation. Those can be frightening… for "buy and hold" investors.
I have a different approach, one that combines strategy and tactics into a plan flexible enough for you to survive and thrive amid the coming chaos. It's called "The Stockman Model."
All we're after is a little stability, perhaps a chance to pocket a windfall when opportunity presents…
To common sense,

David Stockman
Former White House Budget Director, David Stockman is stepping forward in his new project, The Stockman Letter to warn everyone about the serious danger facing our country! Click here to find out the…
Read More