Well it ain't no use to sit and wonder why, babe
Ifin' you don't know by now
An' it ain't no use to sit and wonder why, babe
It'll never do some how
– Bob Dylan,
"Don't Think Twice, It's Alright" (1963)
…
Even when he's half a world away, thanks to modern technology, we're always pretty much up to date on the Tweeter-in-Chief's state of mind.
Over the weekend, as he observed Memorial Day in Japan, the Donald took a moment to speak to you of peace in Iran. It was actually a traditional news conference, not his usual platform.
And he was unusually coherent about the potential for a deal on the Islamic Republic's nuclear program:
I really believe that Iran would like to make a deal, and I think that's very smart of them, and I think that's a possibility to happen…
I know so many people from Iran. These are great people. It has a chance to be a great country – with the same leadership. We're not looking for regime change – I just want to make that clear. We're looking for "no nuclear weapons."
A spokesman for Iran's foreign ministry told a semi-official news agency, "We currently see no prospect of negotiations with America." And the regime offered a standard denial that it's pursuing nuclear weapons.
It certainly knows where to find him, as Foreign Minister Mohammad Javad Zarif added on Twitter, "Actions – not words – show whether or not that's @realDonaldTrump's intent."
There's been no official response from the U.S. – indeed, the Donald's feed has been quite tame the last 24 hours.
But I hope somebody tells John Bolton.
That the Donald appears to have undercut his National Security Advisor is a good thing. John Bolton and his ilk must be stopped, full stop.
The question is whether the Donald is coherent enough to pull it off. Consider signs of such competence from other disciplines of state where he's sought to apply his art of the deal…
Now, the tweets below don't reflect intelligent thought. Nor is it bargaining bluster. These are ravings of a megalomaniac who's gone off his rocker…
I think that China felt they were being beaten so badly in the recent negotiation that they may as well wait around for the next election, 2020, to see if they could get lucky & have a Democrat win – in which case they would continue to rip-off the USA for $500 Billion a year….
….The only problem is that they know I am going to win (best economy & employment numbers in U.S. history, & much more), and the deal will become far worse for them if it has to be negotiated in my second term. Would be wise for them to act now, but love collecting BIG TARIFFS!
His increasingly tweetstorms on the trade file and most else are increasingly unhinged. He tweeted 13 times about tariffs last Tuesday before the sun had time to dry the dew. But each was more out to lunch than the last.
Bright and early, at 6:15 a.m., he praised himself for a "booming" steel industry:
In one year Tariffs have rebuilt our Steel Industry – it is booming! We placed a 25% Tariff on "dumped" steel from China & other countries, and we now have a big and growing industry. We had to save Steel for our defense and auto industries, both of which are coming back strong!
You can see the problem yourself…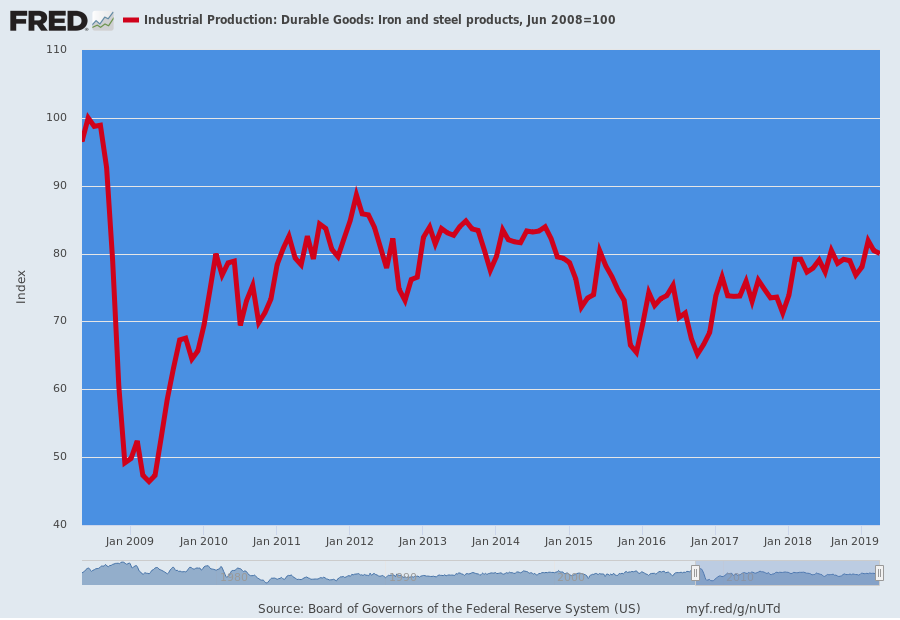 Domestic steel production in March 2019 was 7.5% below where it was after the post-recession rebound in February 2012, still 18% below the pre-crisis peak in mid-2008.
What the Donald sees as "booming" is apparently any and all handiworks for which he wishes to take credit. The mundane facts don't matter.
Then there's the "downstream" impact of Trump's 25% on end-users in multiple industries. Costs for domestic steel consumers have risen by about $11.5 billion.
And only about 12,700 new steel industry jobs have been added. That's according to the Alliance for American Manufacturing, one of the D.C. lobby groups that advocated for Trump's action. The math works out to about $900,000 per job.
None of this – the seat-of-the-pantsing a casus belli in Asia, back-of-the-enveloping billion-dollar trade economies – is a formula to MAGA… by the furthest stretch of even the Donald's imagination.
Keep It Real
Desperate times call for… "common sense" measures.
And these are desperate times… Markets are corrupted by monetary central planning. They're confused. And the road back is going to be treacherous.
We're looking at a major re-pricing for all financial assets. And thousand-point intraday or day-to-day swings are part of that equation. Those can be frightening… for "buy and hold" investors.
I have a different approach, one that combines strategy and tactics into a plan flexible enough for you to survive and thrive amid the coming chaos. It's called "The Stockman Model."
All we're after is a little stability, perhaps a chance to pocket a windfall when opportunity presents…
To common sense,

David Stockman
Former White House Budget Director, David Stockman is stepping forward in his new project, The Stockman Letter to warn everyone about the serious danger facing our country! Click here to find out the…
Read More