I am a Tariff Man.
– President Donald J. Trump,
"Statement via Twitter," (10:03 a.m. ET December 4, 2018)
…
The Donald cratered equities futures again. It was a tweet this time too, and it was about new tariffs. But it had nothing to do with the China Trade War. It was about the Mexico Border War.
"Trump Announces Tariffs on Mexico Over Immigration," explains the Politico headline.
That's why the Dow Jones Industrial Average was down more than 300 points moments after today's open. You could see it coming as soon as the Tweeter-in-Chief let these drop last night at 7:30 p.m. ET:
On June 10th, the United States will impose a 5% Tariff on all goods coming into our Country from Mexico, until such time as illegal migrants coming through Mexico, and into our Country, STOP. The Tariff will gradually increase until the Illegal Immigration problem is remedied,..
….at which time the Tariffs will be removed. Details from the White House to follow.
Just to be sure about where the Donald stands, Philip Klein, editor of The Washington Examiner, the conservative daily in the Imperial City, identifies five reasons why this move is "reckless and mindbogglingly stupid."
But it boils down to two. Any new tariff is a new tax on U.S. consumers. And this specific move will do nothing to fix any of the multitude of problems on our southern border.
Still, "reckless and mindbogglingly stupid" is more than apt.
He continues to tweet about "the greatest Economy in our Country's history" – he did it four days ago.
It's too early to say exactly what kind of squeeze the 5% Mexico tariff will put on profit margins for Corporate America and real spending power on Main Street.
But the Donald hasn't touted the stock market since April 23 – the day the Dow peaked for this rally and about a week before the S&P 500 Index hit a new all-time high. We're down about 7% from those heights so far as May gives way to June.
Still, as David Rosenberg noted this morning…
Navarro's on CNBC saying the U.S. economy is expanding at an "unprecedented" rate. Unprecedented? Sure, whatever you say, pal. He's finally outdone his boss on the Big Lie technique.
"Navarro" is Peter Navarro, currently serving as Assistant to the President and Director of Trade and Manufacturing Policy in the White House. A half-baked economist, he's the perfect stooge to sell the Donald's moronic 18th century mercantilism.
Let's simply consider some long-term data. At the same point in elapsed duration as the present "recovery," the 1960s expansion had generated a 52% gain in real gross domestic product (GDP). The 1990s expansion had generated nearly 42% peak-to-peak growth.
This time, over the course of 120 months, we're looking at growth of less than 20% from the pre-Global Financial Crisis/Great Recession peak.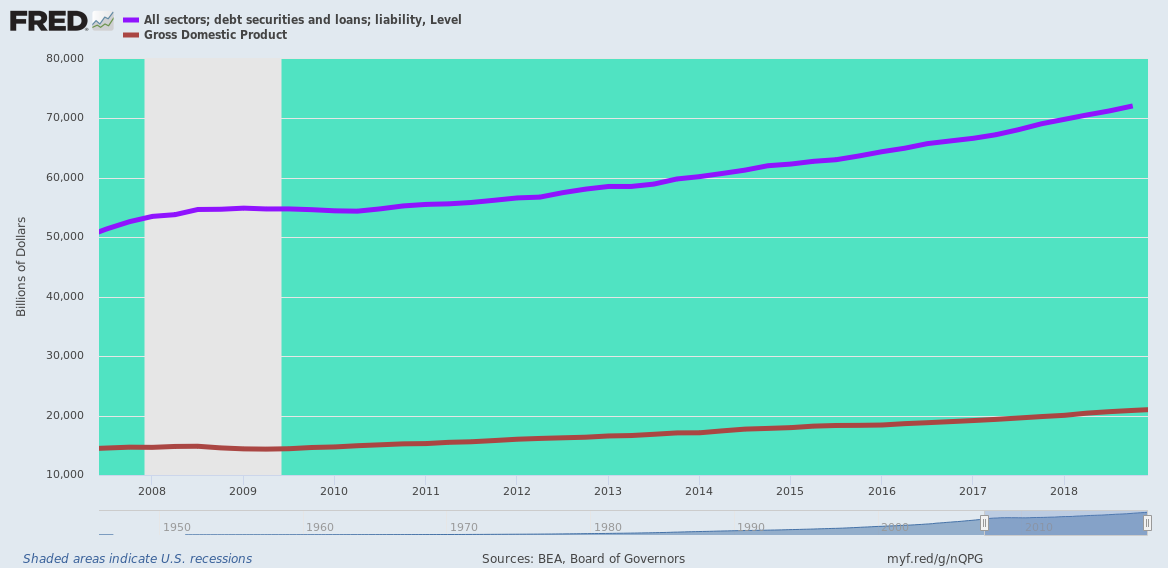 Not only has there been no "equal and opposite" rebound from the events of 2008-09, as per traditional Keynesian theory. In the years since, the U.S. economy has oscillated at tepid 2%, plus or minus, annualized gains.
That's despite unprecedented – really, truly unprecedented – fiscal and monetary largesse.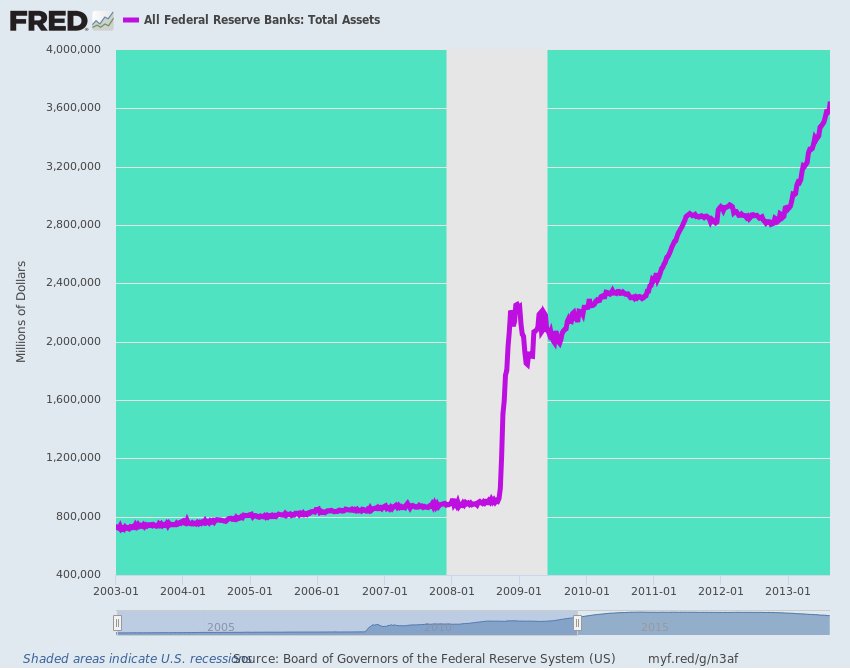 Indeed, total debt – business, household, government, and finance – is up by 40% from $51 trillion to $72 trillion. And that represents $3.75 of new debt for each dollar of added nominal GDP over the last 12 years. That kind of pace is not sustainable, particularly as the business cycle reaches its waning months.
Do the president's men care that the Bureau of Economic Analysis's estimate of first-quarter gross domestic product (GDP) growth was revised lower?
The data under that headline revision show two things pretty clearly: The CAPEX recession has started, and the profits recession has arrived.
This "recovery" is old. And we borrowed most our way through it. There's a lot of excess built up in the system. And that creates a lot of hidden risks.
It's true we know just about all there is to be known about the Orange Swan in the White House.
But, last night, he proved again to Wall Street he's still capable of all sorts of surprise and will swing his hammer wherever and whenever he sees fit.
Fail-Safe
Desperate times call for… "common sense" measures.
And these are desperate times… Markets are corrupted by monetary central planning. They're confused. And the road back is going to be treacherous.
We're looking at a major re-pricing for all financial assets. And thousand-point intraday or day-to-day swings are part of that equation. Those can be frightening… for "buy and hold" investors.
I have a different approach, one that combines strategy and tactics into a plan flexible enough for you to survive and thrive amid the coming chaos. It's called "The Stockman Model."
All we're after is a little stability, perhaps a chance to pocket a windfall when opportunity presents…
To common sense,

David Stockman
Former White House Budget Director, David Stockman is stepping forward in his new project, The Stockman Letter to warn everyone about the serious danger facing our country! Click here to find out the…
Read More