Bubblevision is pimping volatility, markets – maybe sensing reality – are sliding, and today is the last day for priority access to Michael Coolbaugh's Delta Profit Summit.
This is all good news, folks.
As you well know by now, I'm a big fan of Michael's work. I invited him to join our team in mid-summer 2019, after the infamous "Powell Pivot" to "easy money forever."
And Michael's actionable commentary on markets is critically important to what we're doing in Deep State Declassified and The Stockman Letter. His latest commentary is below, and, once again, I think you'll find it fascinating.
What's more, folks who've signed up know that Mike's "fascinating" insights often lead to actionable approaches to the market. Indeed, we've seen three new trades since Wednesday afternoon…
I've said it before, and I'll say it again: I literally cannot think of a better way to identify opportunities for upside while we continue to prepare for the inevitable prodigious downside that comes with these sordid bubbles.
Michael has already demonstrated his value. The "Delta Profit Summit' simply promises more – much more – of the same.
Now, let's hear from Michael…
Do You Feel Lucky?
By Michael Coolbaugh
Remember how Wall Street – particularly Bubblevision's talking heads, including current and former Federal Reserve officials – was telling us we shouldn't pay attention to the yield curve anymore?
And, then – magically – shortly after the yield curve inverted in early 2019, the Fed decided that not only would it embark on a series of rate cuts, but it would also pump another $400 billion or so into the financial system?
I do.
And I don't believe it's a coincidence.
I know I've hammered away at it time and again. But here it is, one more time: It's not the Trade War, it's not "climate change," and it's certainly not this coronavirus.
It's the economy.
Last week I suggested that this week's Federal Open Market Committee (FOMC) announcement would provide much more information for our many lingering questions about the global economy.
Well, if you happened to listen in on Powell's press conference yesterday, chances are, you hit your head on the desk after falling asleep a mere 10 minutes in the Q&A portion. It's clear that Powell has become scared to say much of anything as every time a question is put forth; he re-reads his initial statement a good two to three times.
But Powell's insecurities are the least of my concerns.
In the days leading up to the January 2020 FOMC statement, I suggested we should remain in "wait and see" mode because, quite frankly, I saw very little edge in trying to guess what the Fed would say. Yes, they tried to hint at the coronavirus as well as climate change in their lengthy list of reasons they should continue such unorthodox policies.
But, in my opinion, the reality of the situation is that the global economy – and the banking sector for that matter – is much more fragile than the Fed is willing to express to the general public.
We were told for months on end that the yield curve no longer mattered following its initial inversion in March 2019. But, for some reason, the Fed came out with guns blazing in an attempt to un-invert the curve that supposedly didn't matter.
However, after three rate cuts and more than $400 billion in added liquidity, the market sent the Fed a resounding message yesterday: It's simply not enough.
What do I mean?
Well, following yesterday's press conference, the yield curve collapsed…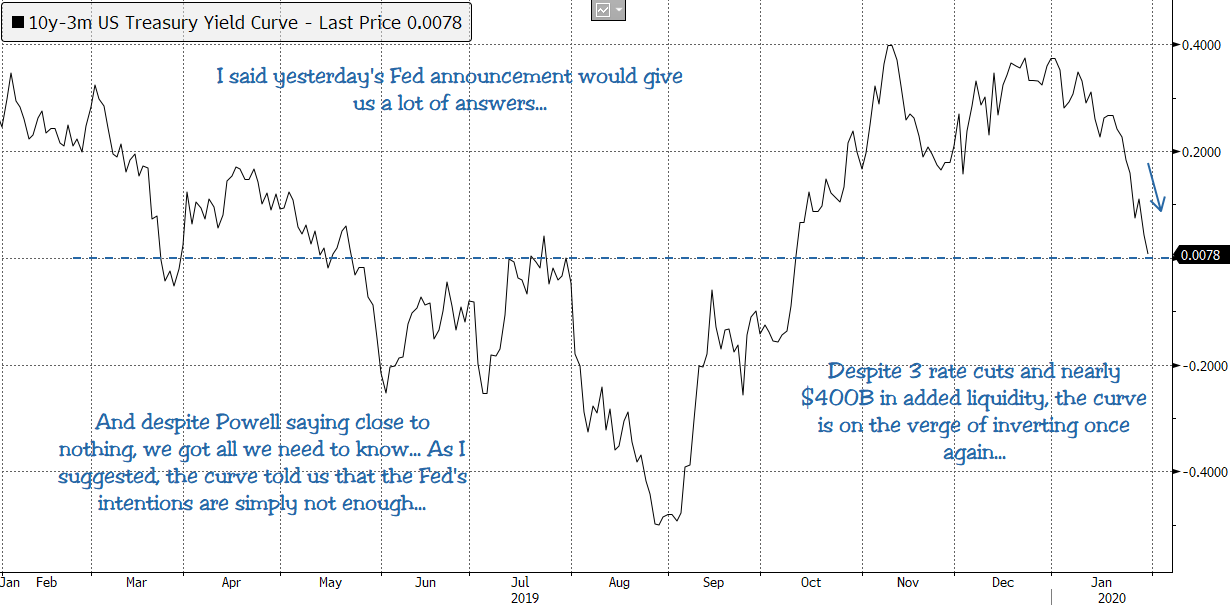 Yesterday's reaction was a definitive message from the market that cycles do matter and that the flashing yellow lights that this cycle is about to turn should be respected.
In case you forgot, here are a few examples…
Just as with every other recession, the year-over-year change in continued unemployment claims continued to climb.

And, wouldn't you know it, as I noted way back on September 5, 2019 – in a commentary I headed with About That Inverted Yield Curve (scroll down a little after you click over) – the supposedly irrelevant inverted yield curve just so happened to coincide with banks tightening their credit standards…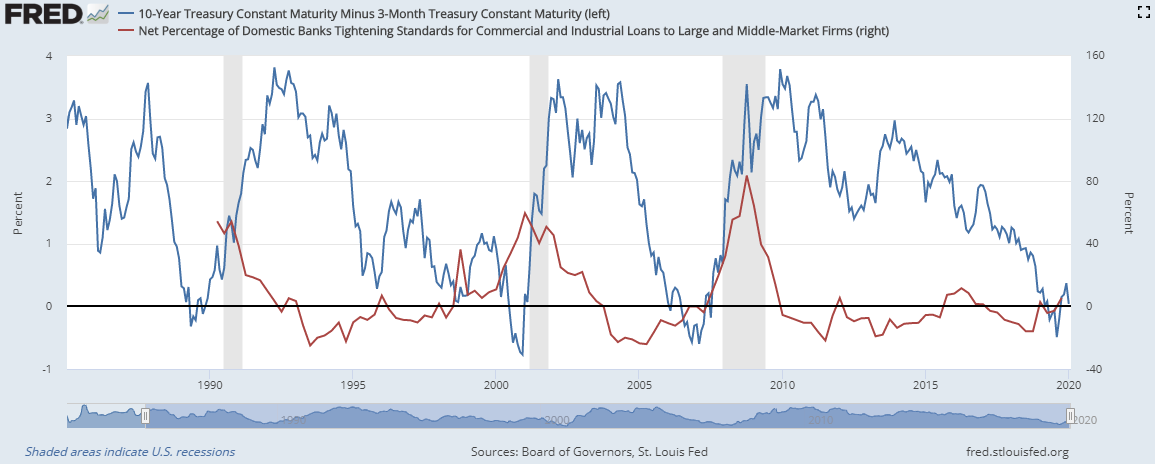 With that came a drastic deceleration in loan growth…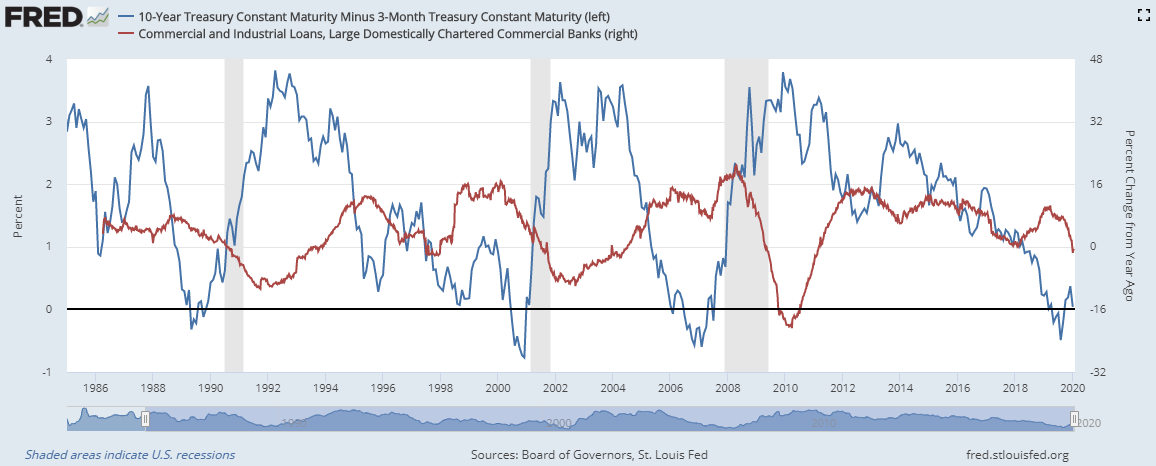 We've talked about this at great length. "This time" is never different.
But here's the thing…
The initial curve inversion occurred in March 2019. And, if you trust the various analyses floating around, the market should rally around 15% to 20% in the 18 months following an inversion.
Well, it just so happens that the S&P 500 Index rallied a little over 19% whether you measure from the initial March inversion or the second, more definitive inversion in May 2019.
So, now what?
The bond market seems convinced that we're on the cusp of a recession, and the Fed is now pushing back with the belief that they shouldn't need to take any more "extraordinary" measures at this time.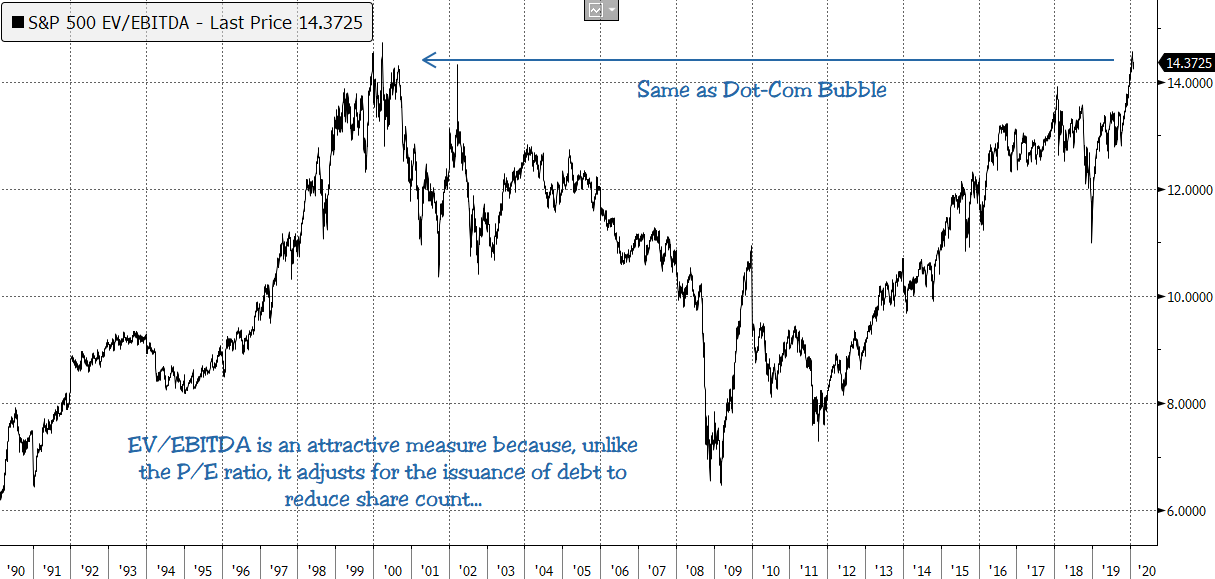 With equities near record-high valuations, I get the urge to channel my inner Inspector Harry Callahan…
"You've got to ask yourself one question: 'Do I feel lucky?' Well, do you, punk?"
When You Don't Need "Luck"…
The 2020 election has replaced the Trade War as the primary risk for investors. That's because, as we've been saying for some time now, this is the most politicized market in history.
And the Tweeter-in-Chief is still in charge. So, the situation is changing almost by the minute.
It's "Impeachment!" in Imperial Washington and all over the Mainstream Media. It's "Easy Money!" on Wall Street and across Bubblevision.
And it seems as if the whole world has, indeed, gone mad.
Amid this chaos, prices will continue to rise and fall, trends will continue to develop and dissipate.
Here's where I usually say, "Well, The Stockman Letter is made for times like these." I can say that because we brought aboard Michael Coolbaugh to update our design to help us better navigate to not only the safest harbors but also the most promising opportunities.
And he's doing that. He's also launched a complementary investment newsletter, Delta Profit Trader, that promises "higher frequency" engagement with markets.
Click here to view the "Delta Profit Summit," where Michael explains his whole approach to investing in this environment.
The stakes are as high as they can be heading into 2020. Markets appear to be straining, catching up to an economy that's been weak and getting weaker for years.
The Donald is tied up in the day-to-day movements of the major stock indexes like no president before him. The increasingly desperate incumbent will do anything he must to hold the White House.
It's a major tipping point. And there's no telling what the Donald's great disruptions could do to your wealth.
You've got to be nimble to win in this market… and Michael's here to help you do that.
To common sense,
David
Former White House Budget Director, David Stockman is stepping forward in his new project, The Stockman Letter to warn everyone about the serious danger facing our country! Click here to find out the…
Read More