How in hell did those bombers get up there every single second of our lives! Why doesn't someone want to talk about it! We've started and won two atomic wars since 2022! Is it because we're having so much fun at home we've forgotten the world? Is it because we're so rich and the rest of the world's so poor and we just don't care if they are? I've heard rumors; the world is starving, but we're well fed. Is it true, the world works hard and we play? Is that why we're hated so much? I've heard the rumors about hate too, once in a long while, over the years. Do you know why? I don't, that's sure! Maybe the books can get us half out of the cave. They just might stop us from making the same damn insane mistakes!
– Ray Bradbury, Fahrenheit 451 (1953)
It's Tuesday… Did you know your empire is dropping bombs on Somalians now too?
A former U.S. ambassador to Somalia told The New York Times, "It could be there is some well-thought-out strategy behind all of this, but I really doubt it." Another former U.S. government official described Somalia as a "massive war on autopilot."
It's up to 80 now, the total number of countries where the U.S. military is "engaged" to various degrees. That's according to Brown University's Costs of War project at the Watson Institute for International and Public Affairs and Smithsonian magazine.
Somalia is highlighted. Indeed, we're there in all five ways Costs of War describes: a "U.S. Military Base or 'Lily Pad,'" "Training/Assistance," "U.S. Military Exercises," "Combat," and, of course, "Air and Drone Strikes."
But that's just about the only way the U.S. creates booms these days… it's certainly not happening on the domestic economic front.
The Donald got his 26th jobs report card earlier in March.
Any one monthly report isn't worth the paper it's printed on. But, when you string 26 monthly readings together, you get some semblance of reality. All the figures except those for the most recent month have been repeatedly revised and updated.
That means there's a bias toward accuracy over time. The Bureau of Labor Statistics (BLS) eventually reconciles its monthly guesstimates with hard numbers derived from the tax records of 20 million U.S. employers.
The Donald's 26-month average now stands at 199,000 jobs per month. The average gain during Obama's last 26 months was 215,000. Technicians would say that difference isn't statistically significant. and the Democrats would taunt, "Told you so!"
I'd say if you can pinpoint exactly when the ballyhooed "Trump Boom" began, point it out to me… and, please, send a magnifying glass…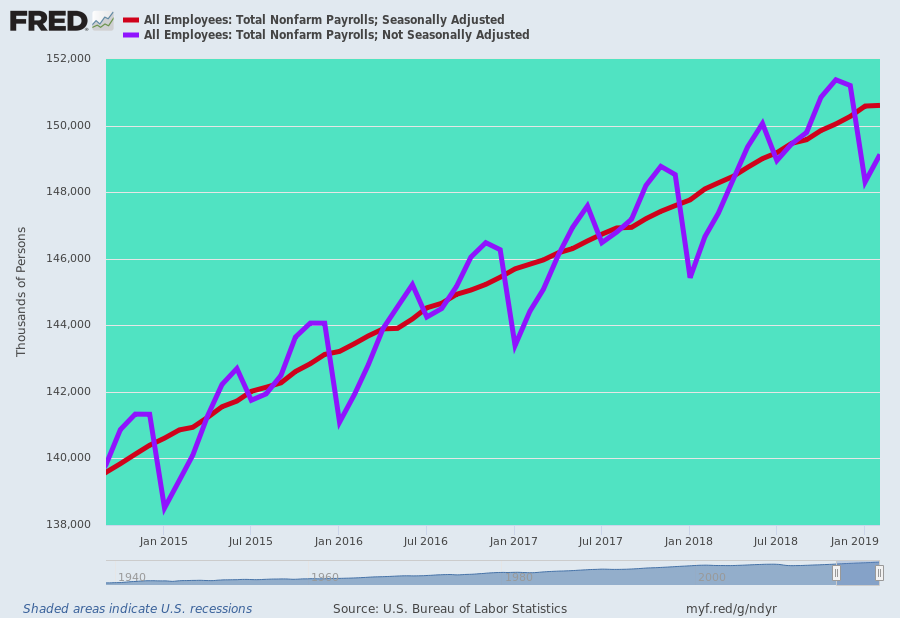 I know, folks, that's not a great joke: There's been no "Trump Boom."
Last June's 4.2% GDP growth number was pure aberration. It was about inventory swings and a massive "pull-forward" of exports. Soybeans alone raised the figure from around 3% to more than 4%, as the winds of Trade War howled.
Real final sales of domestic product less the Trade War-induced export aberrations, the picture is crystal clear.
During the Donald's first eight quarters, the average annualized gain on this core measure of the U.S. economy was 2.50%. It was 2.40% during Obama's last two years.
Here's the big problem – the Main Street problem…
There's been no acceleration in real wages growth. During Trumps first eight quarters, the gain in real weekly wages for full-time workers was 0.85%. That's down from 1.92% during the last two years of the Obama administration.
If there's been a "Trump Boom" – or any acceleration of the languid pace of an aging business cycle trend – it's not in evidence Main Street can see…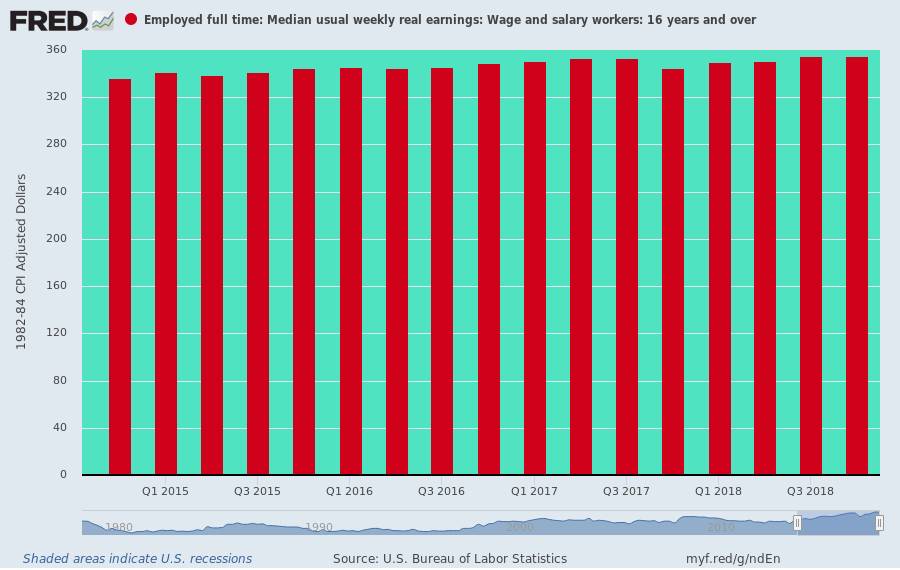 Here's what's happening…
The second-longest business cycle expansion in U.S. history is coming hard upon its expiration date. By June – if we make it – it'll be longer than the 119-month Tech Boom of the 1990s.
It is now evident, though, that first quarter real GDP is coming in under 1.0%. It's also likely the initial fourth quarter 2018 print of 2.6% will be adjusted down sharply. The bottom dropped out for both net exports and construction spending in December, and those data aren't included in the initial GDP estimate.
In fact, the New York Fed and Goldman Sachs (NYSE: GS) estimates for first-quarter GDP growth are about 0.8% at seasonally adjusted annual rate. The Atlanta Fed's GDPNow estimate stands at less than 0.4% as of March 13.
Seasonally adjusted annualized rates of real GDP change are lumpy and volatile. But whatever juice embedded in the data for the second quarter of 2018 is fading fast…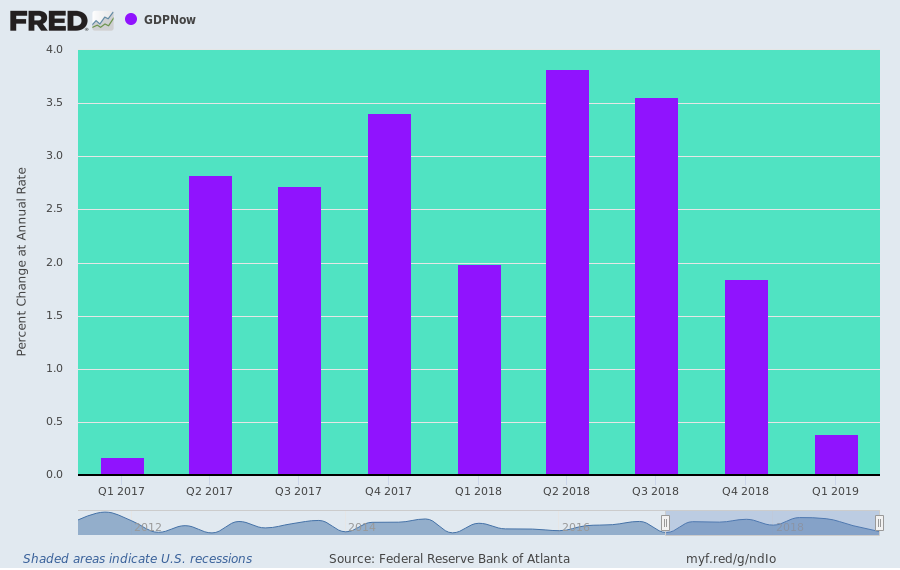 It'll be fascinating to watch the Donald as the data come in against him; he'll certainly tweet-bully his man Jerome Powell into more and even easier money.
There are bigger ways than Somalia to distract attention from a failing economy, though, and the Donald has surrounded himself with men who've been after Iran for decades.
Under plans recommended by Mr. Pompeo and some White House officials, the State Department would designate Iran's military Islamic Revolutionary Guards Corps as a foreign terrorist organization. It would be a first instance of the United States designating a unit of another government's military as a terrorist group; American officials said it could put United States troops and intelligence officers at risk of similar actions by foreign governments.
This unhinged Iran obsession is getting worse.
It's Tuesday… Did you know your empire is getting ready to go to war with Iran?
Empire of Liberty? What?
Desperate times call for… "common sense" measures.
And these are desperate times… Markets are corrupted by monetary central planning. They're confused. And the road back is going to be treacherous.
We're looking at a major re-pricing for all financial assets. And thousand-point intraday or day-to-day swings are part of that equation. Those can be frightening… for "buy and hold" investors.
I have a different approach, one that combines strategy and tactics into a plan flexible enough for you to survive and thrive amid the coming chaos. It's called "The Stockman Model."
All we're after is a little stability, perhaps a chance to pocket a windfall when opportunity presents…
To common sense,

David Stockman
America is at a crossroads. The middle class is disappearing… government spending is out of control… and the implosion of Bubble Finance will cause the greatest market crash in history. So, if…
Read More