It's not personal, Sonny. It's strictly business.
– Michael Corleone, "The Godfather" (1972)
It's Thursday, so Michael Coolbaugh is here with his regular commentary on markets.
Michael's been busy this week, sharing multiple opportunities for his Delta Profit Traders to participate in this week's upside, including, of course, a way to play the response to the coronavirus outbreak in China…
Mike, as he is also wont to do, has a bit of a history lesson for us today – some pictures of the past that will probably prove also to be prologue before too long.
Indeed, if you want to know why we're heading for a financial train-wreck, just consider the back-to-back statements uttered/tweeted earlier this week by arguably the two most powerful economic players on the entire planet:
Powell: "There's nothing about this expansion that is unstable or unsustainable."
Trump: "BEST USA ECONOMY IN HISTORY!"
Powell: "The U.S. economy is in 'a very good place.'"
Trump: "When Jerome Powell started his testimony today, the Dow was up 125, & heading higher. As he spoke it drifted steadily downward, as usual, and is now at -15. Germany & other countries get paid to borrow money. We are more prime, but Fed Rate is too high, Dollar tough on exports."
Notwithstanding the Donald's routine "low interest" dig at the Chair of the Federal Reserve, the real scary thing is that the two took turns praising the unpraiseworthy.
After all, how could anyone in their right mind praise an economy that's gone more than a decade with virtually no gain in industrial production?
The fact is, the business cycle hasn't been outlawed by the economic gods. And it has always and everywhere defeated central bankers who think they partake of the divine.
So, we are now at the expansion's 11th hour, a point 147 months from the pre-crisis peak of the last cycle in November 2007.
And here's all we have to show for it:
manufacturing output is still down by 2.1%;
Gas and electric utility production is still lower by 1.5%; and
total industrial production has barely crept forward by 3.9%, a 0.32% annual rate of gain.
We'll address in the February issue of The Stockman Letter – coming next week – the spurious notion that the Donald has made America great again.
For now, here's Mike with some clear warning signs about what's happening in the market…
Where There's Smoke
By Michael Coolbaugh
If you have a moment, I'd like you to join me for a trip back in time…
It's March 1999, and you're a trader on the floor of the New York Stock Exchange.
Everywhere you turn, there are signs of extreme euphoria.
Qualcomm Inc. (QCOM), already trading at a price-to-earnings ratio of 60x, is beginning to break out for a mind-bending run from $5 a share to $100 over the next nine months.
Cisco Systems Inc. (CSCO), boasting a healthy price-to-earnings ratio of 83x, is also well on its way to nearly tripling over the same nine-month period.
And don't forget those that are no longer around today: Pets.com, Boo.com, Worldcom.
The list goes on…
Now, you're not alone in thinking the world has gone mad. But anyone who tries to short this runaway market gets taken out faster than Michael Corleone took care of the heads of the other five New York Mafia families.
You know you can't let anyone outside the family know what you're thinking, but the "Tarantella" isn't your tune.
So, sure, you could sit this one out.
But you know that when Michael moves to Nevada, there will be enormous opportunities here in New York.
How can you position yourself for success without first losing your shirt?
If You Want Your Money in the Next Five Years…
America is at a crossroads. The middle class is disappearing… government spending is out of control… and the implosion of Bubble Finance will cause the greatest market crash in history. So, if you need access to your nest egg in the next five years and can't afford another market crash, it's time to take matters into your own hands. Find out what to do, right here.
Well, there was a way.
The trade in question resides in the foreign exchange arena. And, outside of global macro trading communities, this arena isn't well known to the public.
I'm talking about the euro-yen cross (EUR/JPY). The EUR/JPY cross is well regarded as a sign of risk sentiment. A rising EUR/JPY cross indicates stronger risk appetite whereas a falling cross means there is greater demand for a safe-haven currency, like the Japanese yen.
Now, I'm not suggesting anyone should go out and attempt to trade FX, especially non-U.S. dollar crosses. Rather, my intent is to reiterate one of my most fundamental trading principles.
And that is this: In almost any case, we should be trading in the direction of the larger trend.
See, if you had the wherewithal to realize the world was out of control as early as December 1998, there were "risk-off" trades you could have made and were with the trend. In this instance, my gauge shows that the trend of EUR/JPY turned bearish as early as November 1998.
In fact, if you bet on a falling EUR/JPY cross, you would have made nearly 37% by the time the S&P 500 Index topped out and witnessed its own shift to a bearish trend in October 2000.
And, while it doesn't quite compare to the meteoric rise in the Nasdaq Composite between November 1998 and October 2000, this "risk-off" trade would have outpaced gains from holding the S&P 500 over that same period.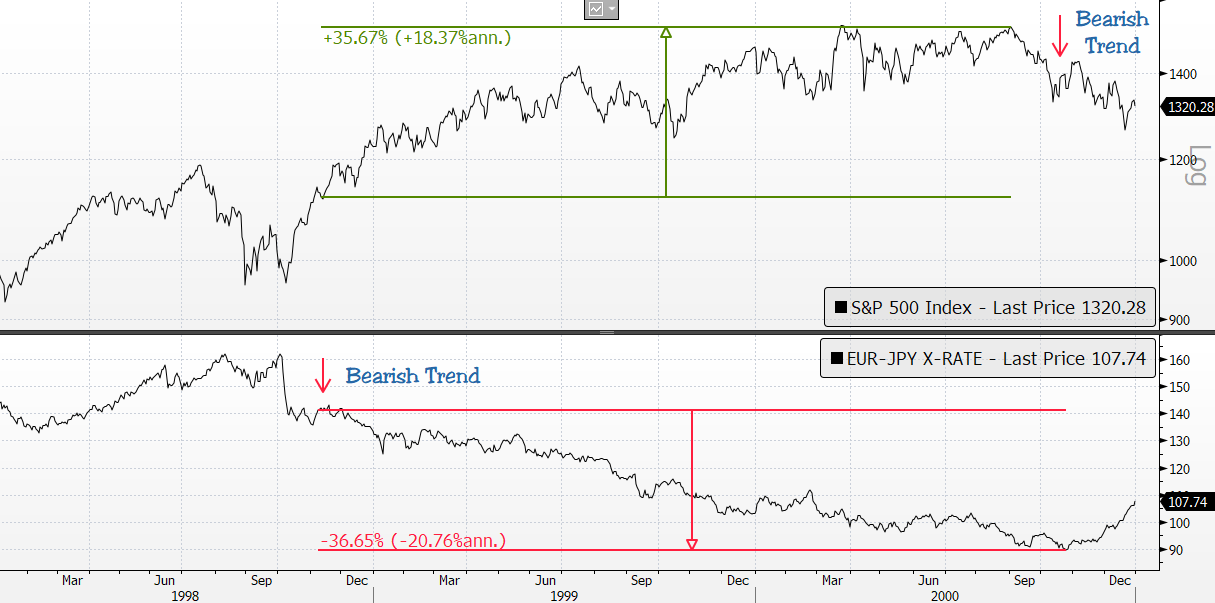 Pretty staggering if we consider this doesn't even adjust for variances in volatility between asset classes.
Fun fact: If we were to "volatility-adjust" these figures using today's volatility readings, it would imply gains of approximately 87% for the EUR/JPY trade versus about 35% for the S&P 500.
But enough of the past.
The really cool part of all this is, given the lengthy list of similarities between 2000 and the present moment, it's quite intriguing that the same trade is available today…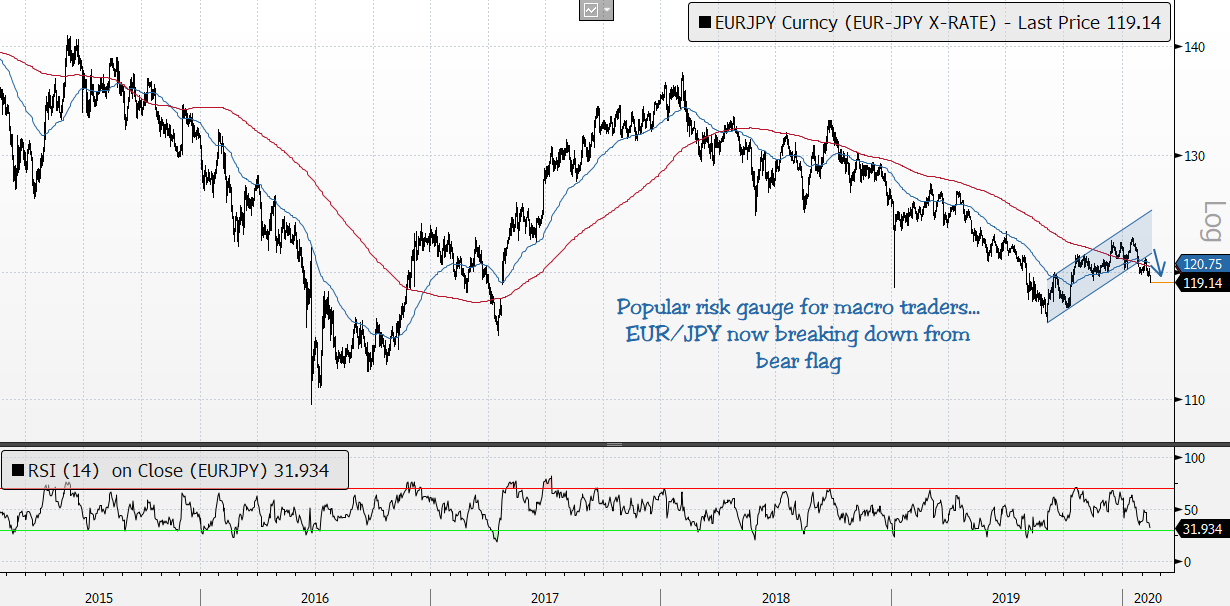 Again, I'm not recommending anyone run out to trade foreign exchange.
It does, however, bring me to one more very important point that I shared on social media just the other day…
There are times when trade expression and construction are just as important – if not even more critical – than the idea. Some of this simply boils down to my philosophy of trading in the direction of the larger trend.
The other part is this: Despite the push for FAANG stocks and passive indexing from Bubblevision, there will be a time when you really need to think about what exactly your trade expresses and how you construct that trade.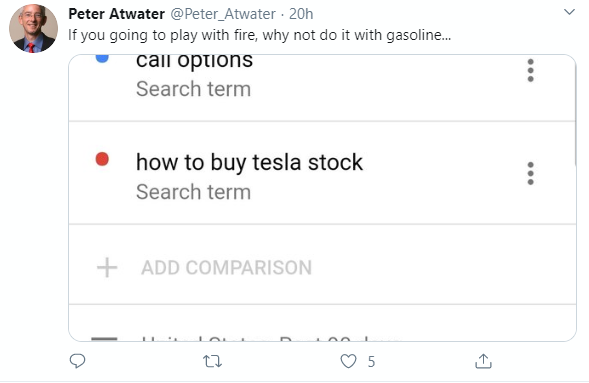 Because, as highly respected researcher on sentiment-driven decision-making Peter Atwater suggested the other day, the market now seems to be playing with fire…
Actually, This Is "Personal Business"…
The combination of the coronavirus outbreak in China and the quadrennial return of presidential politics in the U.S. has replaced the Trade War as the primary risk for investors.
That's because, as we've been saying for some time now, this is the most politicized market in history.
And the Tweeter-in-Chief is still in charge. So, the situation is changing almost by the minute.
It's "Impeachment!" in Imperial Washington and all over the Mainstream Media. It's "Easy Money!" on Wall Street and across Bubblevision.
And it seems as if the whole world has, indeed, gone mad.
Amid this chaos, prices will continue to rise and fall, trends will continue to develop and dissipate.
Here's where I usually say, "Well, The Stockman Letter is made for times like these"…
And I can say that because we brought aboard Michael Coolbaugh to update our design to help us better navigate to not only the safest harbors but also the most promising opportunities.
And he's doing that. He's also launched a complementary investment newsletter, Delta Profit Trader, that promises "higher frequency" engagement with markets.
Click here to view the "Delta Profit Summit," where Michael explains his whole approach to investing in this environment.
The stakes are as high as they can be heading into 2020. Markets appear to be straining, catching up to an economy that's been weak and getting weaker for years.
The Donald is tied up in the day-to-day movements of the major stock indexes like no president before him. The increasingly desperate incumbent will do anything he must to hold the White House.
It's a major tipping point. And there's no telling what the Donald's great disruptions could do to your wealth.
You've got to be nimble to win in this market… and Michael's here to help you do that.
To common sense.
Former White House Budget Director, David Stockman is stepping forward in his new project, The Stockman Letter to warn everyone about the serious danger facing our country! Click here to find out the…
Read More